Learn­ing Latin is the best deci­sion I ever made. Being able to read frag­ments of Ennius, laugh with Plau­tus and Ter­ence, be chas­tised by Seneca Minor, daz­zled by Cicero, and moved to tears by Ovid — peo­ple sep­a­rat­ed from us by over 2000 years — is today a pre­cious expe­ri­ence out of the ordinary.
After many years of teach­ing myself and many oth­ers Latin, I have come to believe that any­one can teach them­selves Latin, giv­en enough time, the right strat­e­gy, and mate­r­i­al. In this arti­cle series, I aim to out­line the most impor­tant aspects for learn­ing Latin on your own, from moti­va­tion, goals, and habits to mate­r­i­al and lan­guage learn­ing tech­niques. My hope is that you will find some­thing here that will help you, whether you are an auto­di­dact, stu­dent, or teacher try­ing to improve or plan a course or home­school curriculum.
Motivation For Learning And To Keep Learning Latin
Two thou­sand three hun­dred years ago, Livius Andron­i­cus invoked the Came­nas and penned the first epic in Latin — his adap­ta­tion of Homer's Odyssey–Odyssea.
"Virum mihi, Came­na, insece versutum."

— Livius Andron­i­cus, Odyssea 2.1.

With those words thus began, one could argue, Latin lit­er­a­ture — at least the record of it.
Imag­ine every piece of Latin text that has been writ­ten after those words. For Latin was not only the lan­guage of Cicero and Vir­gil. It lived on beyond the hori­zon of the Roman Repub­lic and the Roman Empire as a vehi­cle for that most pre­cious of things: Human thought and expres­sion. Latin was the lan­guage of Auso­nius, Augus­tine, Heloise and Abelard, Thomas Aquinas, George Mon­mouth, Eras­mus, Melanchthon, Carte­sius and Lin­naeus, and many, many more. Imag­ine being able to read all of that and con­nect with them.
Some twen­ty years ago, I was out walk­ing with my father in the Old Town of Stock­holm. We hap­pened upon a big rock out­side the House of Nobil­i­ty. It had a gold­en inscrip­tion on it. It was in Latin.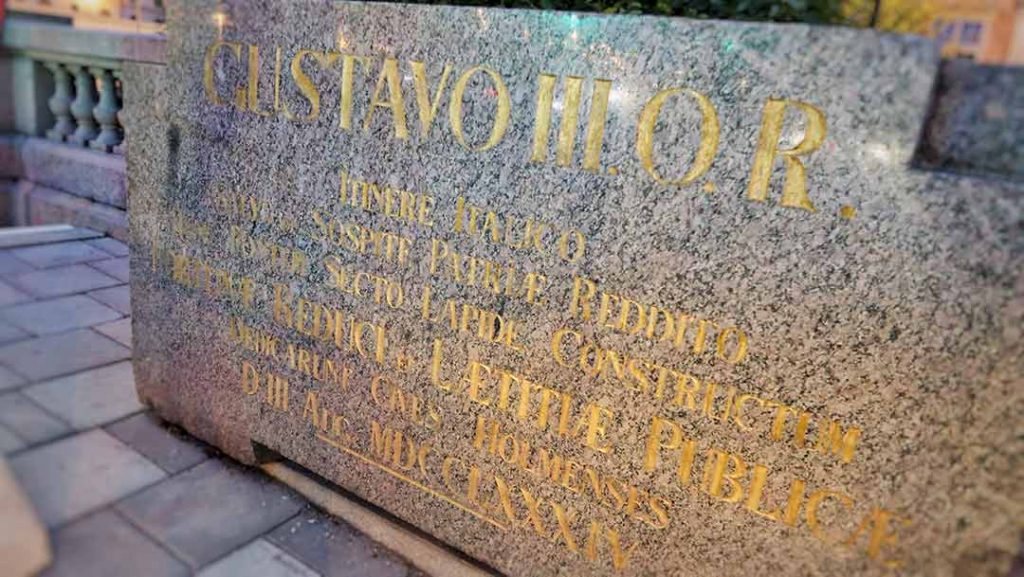 I under­stood noth­ing but was absolute­ly fascinated.
This encounter sparked a burn­ing desire in me to learn the lan­guage writ­ten on that rock in order to unlock the trea­sure of times passed.
Quor­sum haec? So why all this?
Because when embark­ing on a long jour­ney, it's para­mount to remem­ber where you start­ed, where you are going, and what sweet things lie across that steep hill and ver­tig­i­nous moun­tain. Read on.
What Is Your Motivation For Learning Latin?
Learn­ing to read Latin lit­er­a­ture span­ning over two mil­len­nia takes a long, long time. You can learn to cope with texts, trans­late, and even speak Latin con­ver­sa­tion­al­ly in a much short­er peri­od of time. But if you want to learn to read and under­stand Latin lit­er­a­ture from Ancient Rome and beyond, well, it takes a lot of time and work. That is why hav­ing strong moti­va­tion is so important.
So why do you want to learn Latin? Why are you learn­ing Latin?
Since learn­ing Latin takes much time, effort, and patience, it is impor­tant to find a strong moti­va­tion, a long-long-term goal, your dream — some­thing that will keep you going even when the flame of nov­el­ty, so to speak, has died out, and that mag­ic is all but gone.
This is where peo­ple who have a strong well-defined moti­va­tion keep going where oth­ers may lose hope or are attract­ed to a new pursuit.
If you are already well on your way learn­ing Latin, defin­ing your motivation/your dream is still use­ful. It will keep you mov­ing forward.
1. Learn Latin, Step One: Find Your Why
Sit down with a pen and paper. Put on some music and write in large let­ters on your paper:
"Why do I want to Learn Latin?"
or
"Why am I learn­ing Latin?"
Write down, with­out judg­ing, every rea­son and moti­va­tion that comes to your mind. Some will be obvi­ous, oth­ers less so, some glo­ri­ous, some less so.
Look over the paper: What's your dream? What are your moti­va­tions for learn­ing Latin? Do you real­ly want to learn Latin? Weath­er and moti­va­tion change, what was true last year or five years ago, may not be true today.
Be hon­est.
If you tru­ly can­not find any moti­va­tion that inspires you to start or to con­tin­ue learn­ing Latin — con­sid­er let­ting it go. It's ok. There are so many things to learn in life. Your past deci­sions need not be your present law.
So, find your why, the rea­son why you want to learn or con­tin­ue learn­ing Latin.
Make sure your why is strong, as Ovid said:
"Velle parum est, cupias, ut re potiaris, oportet."

— Ovid­ius, Ex Pon­to, lib. III.
"To want it is not enough; you have to desire it in order to achieve your goal."
Here are moti­va­tions for learn­ing Latin that I have heard from stu­dents and col­leagues over the years:
To read Latin for enjoyment.
To do his­tor­i­cal research.
To write a work not doomed by the mor­tal­i­ty of mod­ern languages.
Trav­el through time watch­ing his­to­ry unfold on the pages from antiq­ui­ty to today, in the same lan­guage as you could speak to your friend.
An intel­lec­tu­al challenge.
To write time­less poetry.
It's cool.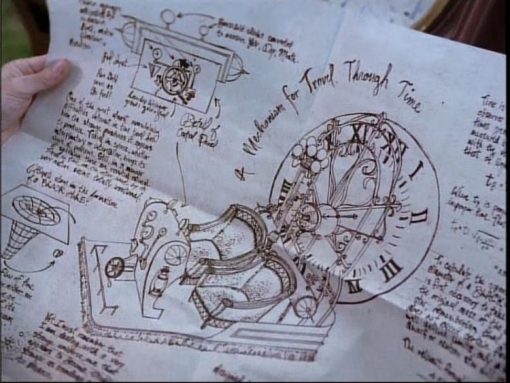 Any moti­va­tion strong enough to keep you dri­ven for years is good. Remem­ber: Your moti­va­tion is yours, and yours alone. Let no one say that your moti­va­tion isn't good enough, wor­thy enough, that it is corny or stu­pid. It is there to moti­vate you, not any­one else.
Find your why.
Now, make sure you've writ­ten your why down. Put it on your wall or keep it close at hand so that it can remind you of why you want to learn or are learn­ing Latin. There will come a time when you need remind­ing. Trust me.
Your Latin Goals
Hav­ing ascer­tained whether or not you actu­al­ly want to learn Latin and hav­ing defined your moti­va­tion as a sort of foun­da­tion of our Latin stud­ies, you are ready to set goals.
This is extreme­ly impor­tant and some­thing I have seen too many stu­dents neglect, (I once did) think­ing moti­va­tion alone is enough. Some­times it is, most of the time it is not.
Learn­ing Latin is a long jour­ney, and your mind will play tricks on you along the way. For exam­ple, it will say things like:
"Oh, it's so hard, I'm not mak­ing progress; maybe Latin is not for me, and who reads Latin any­way? If Latin is so good, how come it turned into the Romance languages?!"
Don't lis­ten. Instead, you have to plan before­hand so that you don't fall prey to these tricks of the mind. We can stop these doubts ear­ly if we set well-defined, mea­sur­able goals. With such goals, you will be able to mea­sure how far you've actu­al­ly come in your Latin stud­ies which is very impor­tant for your will to continue.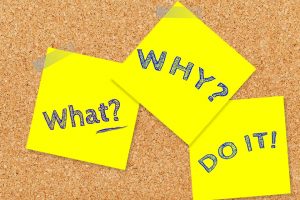 While moti­va­tion is why you want to learn Latin, goals are what you want to do or achieve. Your moti­va­tion is your foun­da­tion that dri­ves and sus­tains that dri­ve on your jour­ney towards com­plet­ing your goals of what you want to be able to do with Latin. Some­times these coin­cide, but your goals should be detailed, mea­sur­able, struc­tured and easy to cross out on a writ­ten plan once you've accom­plished them.
2. Learn Latin, Step Two: Define Your Goal
Sit down and define a long-term goal, maybe a year into the future; i.e. your def­i­n­i­tion of what you want to be able to do or have done at the end of a year of study.
Be bold!
Here are some exam­ples of goals:
To be able to read Cat­ul­lus' poems with­out translation.
To be able to use all the con­tent in the text­book Famil­ia Romana (more about this book in the next arti­cle) in writ­ing or in speech.
To be able to write about your­self, your life and interests.
To have read 1000 pages of Latin.
To have read all Plau­tus' plays.
To be able to under­stand mass in Latin.
To be able to read cer­tain medieval doc­u­ments for his­tor­i­cal research.
To be able to read Pugio Bru­ti.
What­ev­er the goal may be, make sure it is well defined. If need be, write sev­er­al sen­tences defin­ing it. You'll want to be able to ver­i­fy whether you have reached your Latin goal or not; there­fore, goals such as "speak Latin well" are less use­ful because they are high­ly sub­jec­tive. Instead, try using for­mu­la­tions such as "to be able to…" and "will have…".
Write it down.
Put it on your wall.

3. Learn Latin, Step Three: Turn Your Goal Into Subgoals.
With a long-term goal defined, we move on to break­ing it down into small­er chunks or short-term goals. We'll now deter­mine what has to be done to achieve that long-term goal by writ­ing a list of all the steps lead­ing there.
For exam­ple, if our goal was mas­ter­ing the vocab­u­lary and syn­tax of a Latin text­book, we might do this: Say the book has 24 chap­ters and we may set our­selves 12 months to read it. Then in a year, we will have to study 2 chap­ters a month. We may thus state our sub­goals as: "I will have read and mas­tered the text and the exer­cis­es for one chap­ter every two weeks". This is verifiable.
Sug­gest­ed read­ing: First Day of Learn­ing Latin: What to Do
This is applic­a­ble for all goals, adjust it to your own goal and pace. Bear in mind how much time you can set aside for your Latin stud­ies. If you only have 20 min­utes a day, you may have to adjust your goals. 20 min­utes a day still makes for a lot of time in the course of a year.
Remem­ber you can find time for your Latin stud­ies through­out the day, such as when you're wait­ing in line, dri­ving, rid­ing the bus, or walk­ing the dog. (I wrote an arti­cle a while back on how to improve your Latin with just 10 min­utes a day.) This is noth­ing new, in the 1420s the Ital­ian human­ist Verg­e­rio wrote in his trea­tise de ingenuis moribus et lib­er­al­ibus adules­cen­ti­ae studiis:
"Bonae eten­im ratio­nis est ea quoque bona col­ligere quae solent neglegere ceteri, ut si quis super cenam legat et som­num qui­dem inter libros exspectet aut certe per libros fugiat."

— Verg­e­rio
"And indeed, there is good rea­son also to assem­ble those good moments that oth­ers usu­al­ly neglect, as when some­one reads at the table and falls asleep (or escapes sleep) reading."
Make sure your goals work for you and for the time you have.
In sum­ma­ry: Define in detail your main goal, break it down into mea­sur­able sub­goals with dead­lines. Then, make sure you ver­i­fy that you reach them.
With the steps lead­ing to the sub­goals and the long-term goal estab­lished, we will now turn to imple­ment­ing them and mak­ing this a sure thing, by turn­ing them into habits.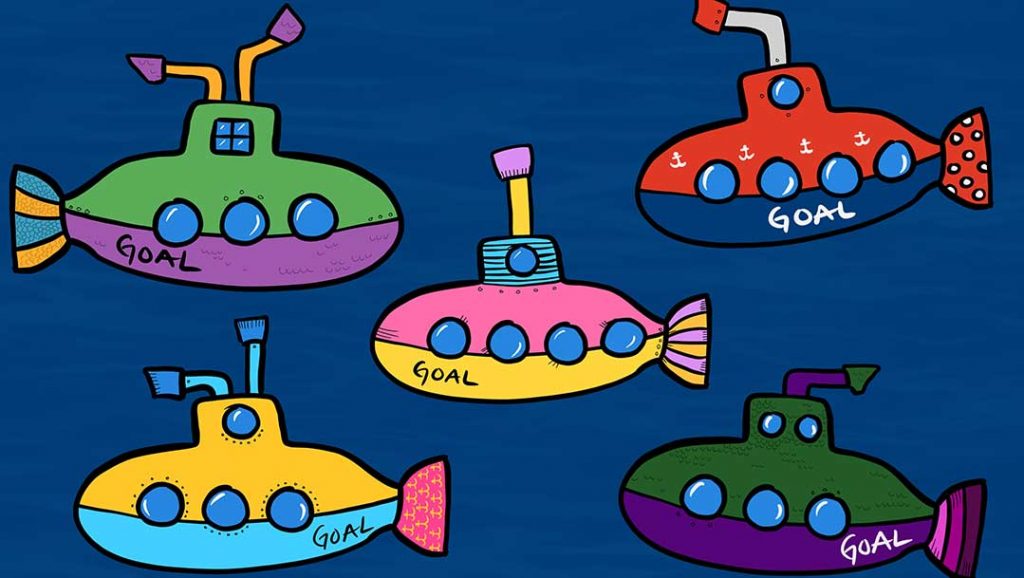 Daily Habits: Crucial When Learning Latin On Your Own
Set­ting goals is great. But with­out the habit call­ing you to do the work, the goal will most like­ly, after the rei novi­tas has died off, be car­ried in solemn silence to the grave­yard of habit­less goals. And as Pon­tanus wrote:
"capi­en­da con­sue­tu­do quaedam quae sen­sum laboris imminuit."

— Pon­tanus, Pro­gymn. 47.
"You have to cre­ate a habit which lessens the feel­ing of work."
If you take only one thing from this arti­cle, let it be the under­stand­ing of habit formation.
So how do you cre­ate a habit of learn­ing Latin?
4. Learn Latin, Step Four: Create A Habit
Return to your pen and paper and think about your sub­goals and see if you can cre­ate a habit that, done dai­ly, will accom­plish them as well as the long-term goal.
If you strug­gle with estab­lish­ing goals, focus on the habits instead. Goals are good for estab­lish­ing a direc­tion in your stud­ies, but you can get very far with habits only. Habits also have the ben­e­fit of not let­ting you down. You can't decide to reach a goal, e.g., "be able to read Ovid," but you can decide that you will per­form a habit that most like­ly will take you to that goal.
For exam­ple, let's say your goal is to mas­ter a text­book (or a prose Latin prose com­po­si­tion book–which is always fun) of 24 chap­ters, and your sub­goal is to go through two chap­ters each month. Then a dai­ly habit might be for you to read and study 20 min­utes, or for anoth­er goal, the habit might be read­ing 5 pages of Latin every day. It doesn't have to be dai­ly, but my own and my stu­dents' expe­ri­ence have taught me that it is eas­i­er to sus­tain a dai­ly habit. We might again quote the human­ist Verg­e­rio, who was of a sim­i­lar opinion:
"Every­thing will hap­pen sat­is­fac­to­ri­ly if time will be appor­tioned suit­ably, if every day we allot fixed times to let­ters and are not dis­tract­ed by affairs of any kind from read­ing some­thing every day."
Make the habit mea­sur­able. Make it sus­tain­able. Got a habit you want in mind? Good. Write it down, define it well in terms of how many pages, exer­cis­es or time spent.
Some sug­ges­tions for Latin learn­ing habits:
Read for 15 min­utes a day
Mem­o­rize a line of verse a day
Write dai­ly in a journal
Lis­ten to Latin every day (Check out our Patre­on site where we pub­lish new Latin videos every Fri­day.)
5. Learn Latin, Step Five: Implementing Your Habit
In the book The Pow­er of Habit (2012), Charles Duhigg iden­ti­fies three main com­po­nents of a habit: cue, action, reward.
The cue is what actu­al­ly trig­gers the habit. This can be a time of day, a place, or anoth­er habit. An exam­ple of a cue for many smok­ers is the end of a meal which trig­gers the action of hav­ing a cig­a­rette. Oth­ers tend to go for a piece of choco­late. A cue to brush your teeth might be the end of breakfast.
The action is the habit itself, the smok­ing, brush­ing your teeth, read­ing for 5 min­utes, or writ­ing 10 lines of verse.
The reward is the good feel­ing result­ing from hav­ing fin­ished the action — the clean feel­ing of your teeth after hav­ing brushed them, the sense of accom­plish­ment of hav­ing read for 5 minutes.
So, in order to get a new habit going, you have to start by find­ing a cue to set you off, to remind you, if you will, to per­form the action of the habit.
The first thing I do every morn­ing, for instance, is exer­cise; the cue is get­ting out of bed. That way, I do not have to think about it and decide—that would be crush­ing­ly hard some days. I just do what I always do. It's a habit.
Oth­er exam­ples of cues for imple­ment­ing a study habit are a time of day, after anoth­er dai­ly habit, (meals, brush­ing teeth, etc.), geo­graph­i­cal loca­tion, read­ing 5 min before start­ing the car, or before get­ting out, read­ing while wait­ing for pub­lic trans­ports, doing one les­son of an online course dur­ing lunch.
The idea is sim­ply to tie the action you want to accom­plish to some­thing that will remind you of it, such as a time of day (e.g., at 7:30 pm), a place (e.g., on the train), or anoth­er habit (e.g., right after get­ting out of bed).
If the feel­ing of accom­plish­ment isn't good enough as a reward for you, you can find some­thing else. It needn't be any­thing elab­o­rate, just some­thing that gives you a feel­ing of sat­is­fac­tion or ful­fill­ment. This is espe­cial­ly impor­tant in the begin­ning, as habits are very frag­ile in their new­born state.
I find that a sim­ple cal­en­dar and a big col­or­ful mark­er work won­ders. Every day, when you have fin­ished your "action," your Latin learn­ing habit, you cross over that day with a big col­or­ful cross.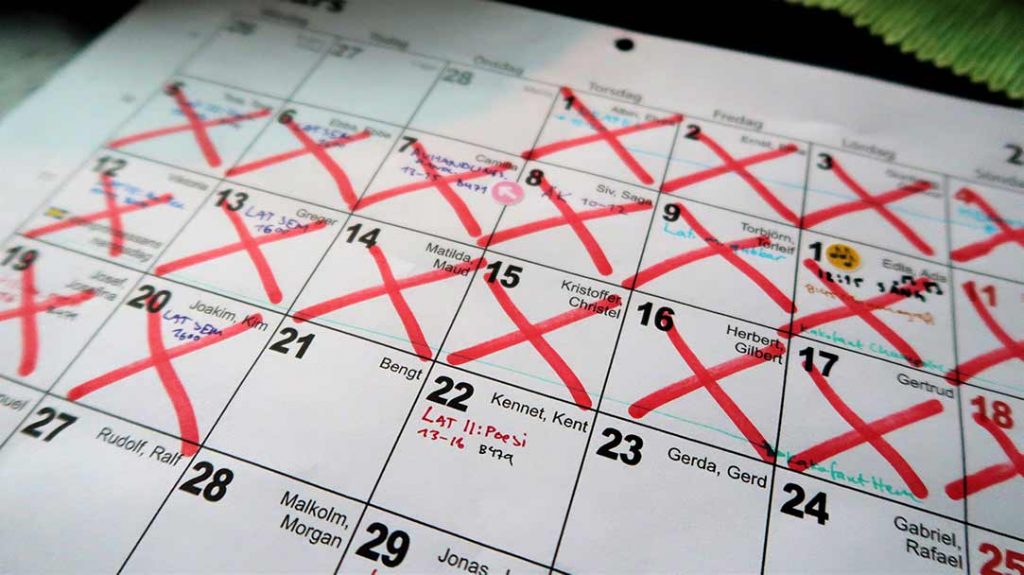 To sum up: take the habit you for­mu­lat­ed in step four and find a cue and a reward for it.
Learn Latin: Get Started
So far, we have dis­cussed moti­va­tion, goals, and habits. To sum­ma­rize the steps, we have talked about:
Find your why. Sit down and fig­ure out why you want to learn Latin. Be hon­est. Write it down.
Define your goal. What do you aim for? What do you want to have done or be able to do with Latin with­in a pre­cise time­frame? Be bold. Be pre­cise. Be true to your­self. Write it down.
Break down your Latin goal into sub­goals, i.e., small­er pieces with set timeframes.
Decide on a habit­u­al action to help you reach your sub­goals (and in the long run, your ulti­mate goal), e.g., read­ing two pages and a reward (cross­ing off a list, a cookie).
Decide what your cue is – that which will remind you when or where to per­form the action of the habit.
Then – do it!
What To Do Now:
Sit down and go through the steps. Do them thor­ough­ly, let them take time. There is no rush. This part is important.
Share and dis­cuss your goals and habits with oth­ers. This is extreme­ly use­ful and is some­thing I wish I had done more.
Share the arti­cle if you found it use­ful and join the Latini­tium com­mu­ni­ty on Patreon.com for week­ly videos in Latin.