When you've decid­ed to learn Latin, you're moti­vat­ed and full of goals and ambi­tions, then it is time to sit down and plan your stud­ies. Hav­ing learnt Latin myself and taught oth­ers how to learn it. I've put togeth­er a read­ing plan in eight (and a half) step for you to fol­low or be inspired by.
A good read­ing plan is one of the most pow­er­ful tools for learn­ing Latin, or any lan­guage. With a read­ing plan you will know what to do and when to do it. This will save you time in your strive for learn­ing – if you stick to the plan that is.
If you want to do a read­ing plan of your own – do it! I sug­gest you skim through my read­ing plan below to get some ideas, and then check out Best books for learn­ing Latin, where I've gath­ered my rec­om­men­da­tions con­cern­ing text­books, Latin read­ers, dic­tio­nar­ies, and Latin prose com­po­si­tion course books. Remem­ber, there are count­less books out there; these are the ones I would use and have my stu­dents read. They are also all read­i­ly available.
With­out fur­ther ado, this is what you could read and study if you want to learn Latin well, in the fol­low­ing order:
Latin reading plan, step 1: Familia Romana
Step one of this read­ing plan is also the most impor­tant one. This is where you lay the foun­da­tions for all the rest. Do this step thor­ough­ly and it will make the rest of your stud­ies so much eas­i­er, smoother and more efficient.
Step one in the Latin read­ing plan is to read and study the text­book called Famil­ia Romana by Hans Ørberg. It is the first part of his series Lin­gua Lati­na Per Se Illus­tra­ta. It is writ­ten entire­ly in Latin and begins with the phrase "Roma in Italia est" and then, with the help of mar­gin­al notes and images to explain new words, takes you to more inter­me­di­ate texts.
To the text­book, Famil­ia Romana belongs an exer­cise book, Exerci­tia Lati­na I, and a dia­logue book Col­lo­quia Per­son­arum. And at the begin­ning of your stud­ies, the text­book and the exer­cise book are enough, though I rec­om­mend using the dia­logue book too. A good dic­tio­nary is always handy should you dou­ble-check some­thing, but it isn't nec­es­sary with Famil­ia Romana.
Make sure you study these books dili­gent­ly. No skim­ming or skip­ping because "I think I know this" or "I rec­og­nize this" or "Nah, this is bor­ing" or "I think I've got this." You should be cer­tain you got it. You should know the text almost by heart. Make sure to do the exer­cis­es sev­er­al times. There is also an audio record­ing of Famil­ia Romana if you can make sure to use that. Read along with the text. Over and over again. Ask your­self questions.
Make sure you mas­ter each chap­ter before mov­ing on to the next—this builds con­fi­dence and a strong foundation.
Sug­gest­ed read­ing: Step-by-step study rou­tine for learn­ing Latin with Famil­ia Romana
Once you've mas­tered the first half of this book – no soon­er – you can move on to step two in the read­ing plan and get treat­ed to some good stories.
Latin reading plan, step 2: Fabulae Syrae
Once you've mas­tered the first part of Famil­ia Romana, it is time to start read­ing Fab­u­lae Syrae.
Fab­u­lae Syrae belongs to the Lin­gua Lati­na Per Se Illustrata/Familia Romana series. The book has one of the char­ac­ters from Famil­ia Romana, a slave called Syra, tell sto­ries from the clas­si­cal world. Each of the sto­ries Syra tells cor­re­sponds to a chap­ter in the sec­ond half of Famil­ia Romana.
For every chap­ter in Famil­ia Romana, you mas­ter from now on, read the cor­re­spond­ing sto­ry in Fab­u­lae Syrae. This will help you with your vocab­u­lary and syn­tax and teach you about myths and sto­ries from the Roman world.
Latin reading plan, step 3: Pugio Bruti
When you're start­ing to see the end of Famil­ia Romana or have fin­ished it, it is time to read and lis­ten to some­thing fun: Pugio Bru­ti – A Crime Sto­ry in Easy Latin. (I'm a bit biased here as I co-authored it. :))
Pugio Bru­ti is not a Latin text­book, but a novel­la, a crime sto­ry, writ­ten with a vocab­u­lary of 350 words. The Latin is fair­ly easy, but respects attest­ed clas­si­cal usage and will put your skills from study­ing Famil­ia Romana to the test. The book comes with a full Latin-Eng­lish vocab­u­lary and there are extra resources, such as a list of idioms, free online.
Read the book and make a note of what you don't quite under­stand. Then read it again and again. Just like you did with Famil­ia Romana. If you have the pos­si­bil­i­ty, there is also an online course avail­able with exer­cis­es and videos in Latin.
Don't for­get to enjoy your­self! Pugio Bru­ti is writ­ten as a book to be both stud­ied and enjoyed. Remem­ber the latter.
Latin reading plan, step 4: Epitome Historiae Sacrae
Step four in my read­ing plan is turn­ing your atten­tion to the book called Epit­o­me His­to­ri­ae Sacrae: Bre­vi Christi Vitae Nar­ra­tione Addi­ta by Charles Lhomond and Rober­to Carfagni.
Epit­o­me His­to­ri­ae Sacrae is a 17th-cen­tu­ry Latin read­er with sto­ries from the Bible. It has a rather large vocab­u­lary, but it won't feel as large as it actu­al­ly is due to the famil­iar­i­ty of the stories.
Read the book, study it and mas­ter it.
Latin reading plan, step 5: Assimil
When you begin with this read­ing plan's step 5, you've been treat­ed to some good sto­ries for a few steps. It is now time to return to a text­book. This time, Assim­il Le Latin sans peine or Assim­il Il Lati­no sen­za sfor­zo.
Assim­il is a begin­ner text­book, just like Famil­ia Romana, mean­ing you will start from the begin­ning again. How­ev­er, Assim­il is con­struct­ed in a very dif­fer­ent way than Famil­ia Romana and uses 101 dia­logues in Latin to teach you the language.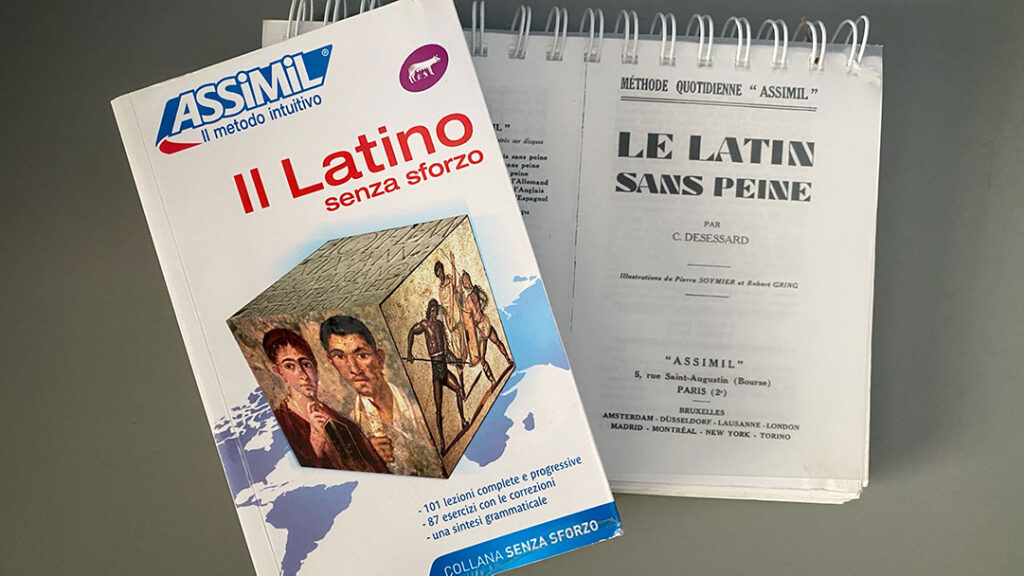 To get the most out of Assim­il, you need to lis­ten to the record­ings avail­able of the all the dia­logues over and over again to start to devel­op an intu­itive under­stand­ing of Latin.
Assim­il will help you dis­cov­er gaps in your knowl­edge of Latin so far and help you dis­cov­er many fun pas­sages from Latin lit­er­a­ture as many of the dia­logues are tak­en from Latin lit­er­a­ture (while oth­er dia­logues are just con­ver­sa­tions in every­day situations).
Assim­il comes with a par­al­lel trans­la­tion in French or Ital­ian. Don't let this scare you. If you've stud­ied Famil­ia Romana, and pos­sess a decent Latin dic­tio­nary, you can cov­er the trans­la­tion up and for­get it is even there.
Latin reading plan: Pause and evaluate yourself
You have now come a long way, and your foun­da­tion in the Latin lan­guage should be fair­ly robust. How­ev­er, before you cel­e­brate, it is time for some self-examination.
Do you real­ly mas­ter the texts in step1‑5? Have you read each book dili­gent­ly? Or did you per­haps only read Fab­u­lae Faciles once? Did you skip a part? How about gram­mar and syn­tax? Did you under­stand every­thing in the exer­cise book? Did you under­stand every sen­tence in Pugio Bru­ti? What do you need to practice?
Be bru­tal­ly hon­est with your­self. And remem­ber: It's not a race. I would like you to mas­ter the con­tent of most, or prefer­ably, all of these books and build a strong foundation.
So before you move for­ward: iden­ti­fy your weak spots and deal with them. Revis­it texts or pas­sages if you need to.
Latin reading plan, step 6: Fabulae Faciles
You've come a long way! You've mas­tered Famil­ia Romana, worked through exer­cis­es, read sto­ries, dia­logues, pieces of lit­er­a­ture, a crime sto­ry in Latin. Before you move for­ward: pat your­self on the back for a job well done!
Step six in this Latin read­ing plan is read­ing Ritchie's Fab­u­lae Faciles. This book is a clas­sic Latin read­er from the 19th cen­tu­ry. Like Fab­u­lae Syrae, it con­tains sto­ries from the vast sea of clas­si­cal myths, with sto­ries about Ulysses, Her­cules, and Perseus.
It is writ­ten with fre­quent use of phras­es from Cae­sar as it was writ­ten as a prepa­ra­tion to read Cae­sar's De Bel­lo Gal­li­co, which has tra­di­tion­al­ly been the first Roman text stu­dents read in school.
Just like before, study this book dili­gent­ly. Make sure you mas­ter the text. Re-read, then re-read again.
Latin Reading Plan, Step 7: Latin Dialogues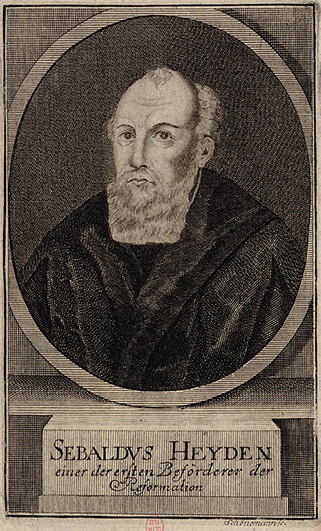 Thus far you have read sto­ries and his­to­ry large­ly focused on the third per­son nar­ra­tive. Now it is time to widen your vocab­u­lary and accus­tom your­self to oth­er per­sons and tens­es. It's time to read more dia­logues, this time from the 16th century.
The 16th cen­tu­ry was the gold­en age of the Latin dia­logue book with dozens of authors writ­ing dia­logues for stu­dents to learn to speak Latin. Of these, I sug­gest you first read Sebald Hey­den's For­mu­lae Col­lo­qui­o­rum. His dia­logues will be easy for you now, but still fun. Next, I would sug­gest you con­tin­ue with more com­pre­hen­sive and repet­i­tive dia­logues, such as Matur­i­nus Corderius' Col­lo­quia Scholas­ti­ca.
Final suggestions
The plan is con­struct­ed to give you a great deal of vari­ety but more impor­tant­ly rep­e­ti­tion. It is tempt­ing to skip ahead, read just once, but I have seen so many stu­dents pay the price lat­er on. Fol­low this plan, go through each book metic­u­lous­ly, mas­ter­ing each step along the way.
Once you've done gone through most of this plan you are no longer – by any means – a begin­ner. Congratulations!
---
For more infor­ma­tion about the books, as well as fur­ther book rec­om­men­da­tions see Best Books for Learn­ing Latin.
*This arti­cle con­tains affil­i­ate links, which means that we make a small com­mis­sion from any sales—without affect­ing the price for you.