This is a pic­ture of our spices. In Swe­den, the bot­tles don't come with Latin names. So whence these sapi­ent spices? Read on. In his De ratione studii, the grand human­ist Eras­mus of Rot­ter­dam gave great advice on how to learn expres­sions, say­ings, and proverbs. In this arti­cle, I'll show you how to adapt his easy tech­nique to learn the Latin vocab­u­lary of every­day things.
For more tech­niques, read this arti­cle about improv­ing your Latin in 10 min­utes a day.
You may con­clude that learn­ing the names of every­day things is a waste of time for Latin­ists. I disagree.
To para­phrase Eras­mus, we must mas­ter the vocab­u­lary of the basic domains (place names, ani­mals, clothes, fur­ni­ture etc.) because from them authors from every age have drawn com­par­isons and metaphors. They are the build­ing blocks.
But there is anoth­er rea­son as well.
Why Learn Latin Everyday Words?
Know­ing the names of every­thing around you, cre­ates con­fi­dence, a feel­ing that you've mas­tered a domain. To dev­il­ish self-doubt, you'll reply, "I may not know this word [insert word], but I do know the names of all the fur­ni­ture in my home".
This sounds strange but know­ing the words for every­thing around you is tan­gi­ble evi­dence of progress, which oth­er­wise is so elu­sive and per­fid­i­ous: We don't see the plant grow and so think it doesn't.
But learn­ing this vocab­u­lary takes time which many rarely have. So what can we do? Learn it with­out study­ing hard?
Pie in the sky?
Sounds tasty, but no.
How to Learn the Everyday Items in Latin
So we will look to that Dutch human­ist to guide our step. The tech­nique comes from his fas­ci­nat­ing De ratione studii (1512), where he pro­vides prac­ti­cal tips while set­ting out his views on learn­ing Latin.
He sug­gests dress­ing the walls and every­day objects with proverbs, expres­sions, say­ings, even carv­ing them into rings and drink­ing cups so that you're sur­round­ed by them and learn them while doing oth­er things.
This brings us back to the sapi­ent spices I spoke of in the beginning:
Recent­ly, with my help, my girl­friend used this method to learn the names of the spices we use most often.
This has had a tremen­dous effect. After just a few weeks, she now knows them all, just from see­ing them every day when we cook. No studying.
Once you've put up the pieces of paper, you'll see the Latin words con­stant­ly: going for cof­fee in the kitchen, tak­ing out the trash, you'll see them and quick­ly forge a last­ing link between them and the object to which they refer cut­ting out, so to speak, the middleman.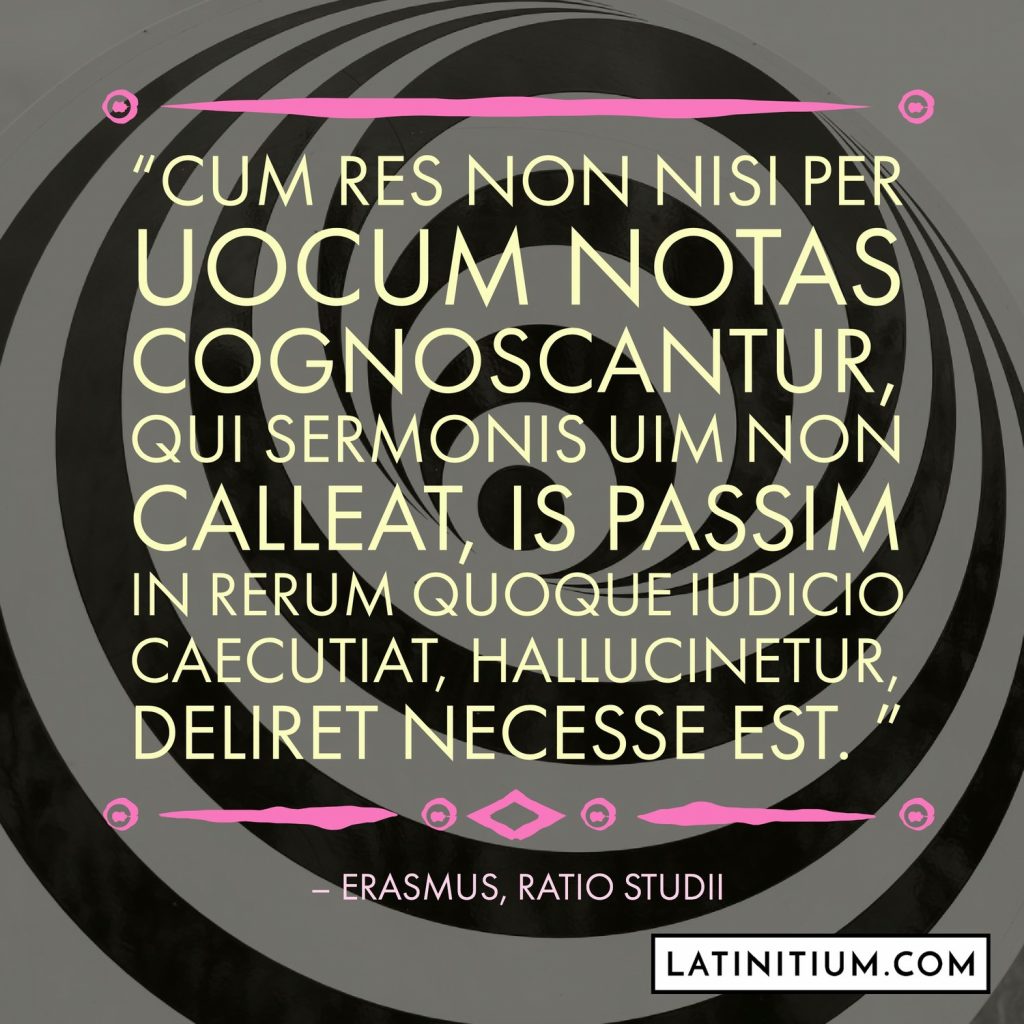 So, how is it done?
Step 1: Selection of Items to Learn
First off, you need to select the items whose names you want to learn.
It's a ques­tion of taste, time, and lev­el. Some start with basic vocab­u­lary, eg.
Oth­ers want to cov­er every­thing in a par­tic­u­lar room, e.g.
door han­dle
lamp wick
shelf
cur­tain
Choose a strat­e­gy and start. As the ink on your list dries, it's time to pre­pare for the hunt, that noble quest for the right Latin word.
Step 2: Find the Latin equivivalent
There are many places to go to find the right Latin word: Of the pri­ma­ry resources, time-trust­ed dic­tio­nar­ies are the best.
Dic­tio­nar­ies
Let's first look at the vernacular–dictionaries. They are legion but I will name only the most exhaus­tive and well known:
To these vol­umes of the 19th cen­tu­ry, I will add the emi­nent Lex­i­con Lat­inum, writ­ten by David Mor­gan, and now con­tin­ued by Patrick Owens. It will not only sup­ply many words that you would look for in vain else­where but also dis­cuss dif­fer­ences in meaning.
If you are real­ly inter­est­ed in learn­ing how sim­i­lar words dif­fer, you should con­sult ded­i­cat­ed dic­tio­nar­ies of Latin syn­onyms.
Illus­trat­ed works
Anoth­er resource is the Orbis Pic­tus Lat­i­nus by Her­man Koller. It con­tains ca. 1700 words from the clas­si­cal and ear­ly mod­ern peri­od, many with illustrations.
In the same vein, but geared towards chil­dren and novice learn­ers – though many a pro­fes­sor would strug­gle with nam­ing them all – is First 1000 words Latin, the­mat­i­cal­ly organ­ised pic­tures of every­day things with their Latin names. It has been cor­rect­ed by Patrick Owens.
Online groups
Oth­er great resources are the forums and face­book groups online.
Do this exer­cise togeth­er with some friends, share the bur­den of look­ing up words and talk about which one would be the best fit.
For this, I rec­om­mend the Face­book groups ded­i­cat­ed to Latin. These are some of them:
Teach­ing Latin for Acquisition,
Latin teacher idea exchange,
Learn­ing Latin
The peo­ple in them are kind and helpful.
Now that the elu­sive words are in your net, what's next?
Step 3: Write the Word on a Note and Place on the Object
Next, you need to get some paper, prefer­ably thick and bright­ly col­ored to stand out a bit.
Avoid post-its, since they don't stick well to soft­er sur­faces and tend to drop to their doom after a short while.
Write large enough to see the words from across the room, or wher­ev­er you usu­al­ly are in that par­tic­u­lar room.
If you spend a lot of time on a chair or more hor­i­zon­tal­ly, con­sid­er plac­ing the slips so you can see them from that position.
And when you know them all…
For Extra Credits
Let us now return to the Dutch human­ist's sage advice. But with a twist.
When win­dows have giv­en way to fen­es­trae, and tables to men­sae, when your palette no longer remem­bers basil, but savors oci­mum, then take out a new piece of paper.
Search for famil­iar words, e.g. men­sa in a Latin dic­tio­nary or in a cor­pus (e.g. PHI) and write out a phrase or proverb con­tain­ing the word, for instance, secun­da men­sa ("dessert") or men­sae tem­pus ("meal time").
Then do this with any expres­sion, or proverb you come across.
These things might look small but they will amount to much.
" Tamet­si sin­gu­la per se pusil­la uiden­tur, tamen in unum col­la­ta acervum doc­tri­nae the­saurum lucro augent."

— Eras­mus, Ratio studii
Don't give up
One last word on find­ing the right Latin word. It may seem easy, noth­ing more than open­ing a dictionary.
But this is not always so.
Con­flict­ing answers, obscure def­i­n­i­tions, or no answer at all, con­spire to stop you. But don't let it, ne has­tas abieceris.
If you hes­i­tate on which word to choose, con­sult all the dic­tio­nar­ies, run to the dic­tio­nar­ies of Latin syn­onyms (you can read about them here), and ask people.
Remem­ber to have fun! Hap­py covering-your-home-in-Latin-words!