Master A Latin Text, 10 Minutes At A Time
The last cou­ple of years peo­ple have fre­quent­ly asked me how I learned to speak Latin and what they could do to improve their own Latin even if they had extreme­ly lit­tle free time. I believe every­one can teach them­selves to speak Latin and read Latin flu­ent­ly. It's just a ques­tion of moti­va­tion, method and material.
There are many ways we can build our skill in a lan­guage. Today I will treat one I've enjoyed a lot of suc­cess with.
For more sug­ges­tions, read this arti­cle about a method I adapt­ed from Erasmus.
First off, the key ingre­di­ent to gain­ing flu­en­cy in Latin is con­sis­ten­cy and habit. Get­ting a good dai­ly read­ing (or lis­ten­ing) habit is essen­tial. Now, this is some­times extreme­ly dif­fi­cult with jobs, fam­i­ly life, hob­bies and, well, life get­ting in the way. But there is hope: here's a quick-fix or, more accu­rate­ly, a "slow-fix".
So today I thought I'd present a tech­nique I use when I don't have the time to read an hour a day.
This tech­nique is not only about read­ing but about real­ly mas­ter­ing a piece of text and mak­ing it your own. When I've done this, I've found I know the expres­sions and struc­tures almost off by heart. Then when speak­ing Latin, I have a ready source to draw from. Also, when read­ing a dif­fer­ent text, it's eas­i­er to see sim­i­lar­i­ties and dif­fer­ences in expres­sions if you know a cou­ple of texts real­ly well.
Last­ly, being real­ly famil­iar with a num­ber of texts helps enor­mous­ly with build­ing con­fi­dence, which is an inte­gral part of per­se­ver­ing on the road to flu­en­cy. Let's get into it.
I dis­cuss this tech­nique and more in this talk (in Latin) I gave in Flo­rence 2016 (Sub­ti­tles in Latin are avail­able!):
Day 1: Material—interesting & level appropriate
First off, we need a text. An inter­est­ing text that we can also under­stand, more or less. Pick one. It does­n't have to be per­fect. For some sug­ges­tions look through our grow­ing selec­tion of short record­ings of Latin texts.
Pick a text and look through it with­out read­ing it.
Just famil­iar­ize your­self with it.
Read a few words here and there. It's a first date, you're just get­ting acquaint­ed. Put it down and let it rest until tomorrow.
A new day and a new step to take.
Pull out the old hour­glass (or use a less fun timer). Set it to ten min­utes. Start reading.
How much you read dur­ing your 10 min­utes is not impor­tant, but to be able to per­form the next steps, keep it to a few pages tops. Read at a pace at which you can under­stand and visu­al­ize the things you read. Note where you stopped.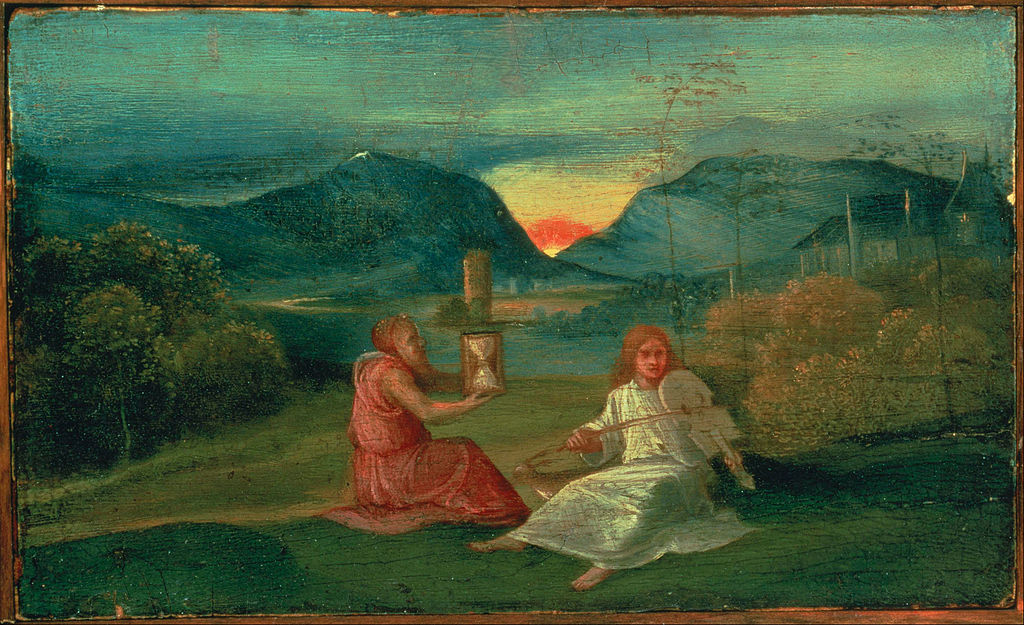 Extra Credit: Visualizing
Visu­al­is­ing is a great way to see if you real­ly under­stand a text. If you can pic­ture it in you mind, you most like­ly under­stand it.
Fur­ther­more, it makes under­stand­ing more lengthy sen­tences much eas­i­er. For instance take a sen­tence like this from good ol' Caesar:
"Pri­ma luce pro­duc­tis omnibus copi­is dupli­ci acie insti­tu­ta, aux­ili­is in medi­am aciem coniec­tis, quid hostes con­silii caper­ent expectabat."

Cae­sar, de Bel­lo Gallico
When read­ing a sen­tence, try pic­tur­ing each part before pro­ceed­ing. For exam­ple, after reading
"pri­ma luce pro­duc­tis omnibus copi­is dupli­ci acie instituta"
try to see a field with the sun just ris­ing where the troops have been led out and placed into a dou­ble bat­tle line. Then read on
"aux­ili­is in medi­am aciem coniectis"
and visu­al­ize the aux­il­iary troops in the mid­dle. It does­n't mat­ter if you know what this actu­al­ly looks like, just pic­ture some­thing plau­si­ble. Try to see the sol­diers stand­ing in these lines. Con­tin­ue with:
"quid hostes con­silii caper­ent expectabat"
Pic­ture the gen­er­al on his horse look­ing around and wait­ing to see what the ene­my will do.
This may seem a very lengthy exer­cise, but describ­ing a pic­ture requires, well, a thou­sand words. In real­i­ty, pic­tur­ing some­thing is a lot quicker.
Try it.
Pic­ture an ele­phant read­ing a book. Then write down that descrip­tion. Takes a while, right?
Now, many may say that they are not visu­al, but I think most peo­ple are.
Think of any book you've read and then seen a cin­e­mat­ic adap­ta­tion; maybe you've gone "that's not what X is sup­posed to be like, look like etc."; the movie's images con­flict with your own visu­al rep­re­sen­ta­tion of the text.
Day 3: Re-read & Record & Read
On day three you set your timer and re-read the same text that you read on the pre­vi­ous day. This will be a lot eas­i­er, and prob­a­bly quick­er, than the first time.
Now comes the cru­cial part. In the time you have left do this: Pull out your phone or any device with a micro­phone. Set it to record and start read­ing the pas­sage that you've by now read two times. Read slow­ly into the microphone.
When you record, it does­n't have to be per­fect, not even all that good, because between lis­ten­ing to a less than per­fect read­ing of a Latin text and not lis­ten­ing at all, the choice is easy.
Record until your timer goes off. Save the file. Done for today.
The next day you con­tin­ue read­ing. Then on the day after you record that text, and con­tin­ue in the same fashion.
No Time To Record?
Some­times there's just not enough time or strength to record it. It hap­pens to all of us. Here you can find our Latin audio archive sec­tion; pick what­ev­er piques your inter­est and start from step 3.
You can find more audio and hours of video in Latin on our Patre­on page. Become a Latini­tium sup­port­er, and get access to tons of mate­r­i­al, and new videos in Latin every week.
Day 4: From The Top
If you fin­ished record­ing the pas­sage on the pre­vi­ous day, start from step 1 and pick a new pas­sage; oth­er­wise, fin­ish record­ing the pre­vi­ous one.
Listening
So, now we have some text record­ed, what now?
Apart from the use we get from re-read­ing, we get a record­ing to lis­ten to when we are going about our day.
Now we have to find time to lis­ten to it and this can be tricky but I'll give you some exam­ples of when I've lis­tened to Latin:
While brush­ing my teeth
While hav­ing break­fast (maybe less social­ly accept­able if some­one else is present, but hey…)
While com­mut­ing to work
While walk­ing
At the gym
While doing the dishes
At the gro­cery store (this often leads to me walk­ing around for­get­ting what I was sup­posed to buy.)
These lit­tle bits of time amount to a lot of lis­ten­ing if we do it every­day. For exam­ple, I would esti­mate I spend around 10 min­utes stand­ing in line dur­ing a reg­u­lar work day (cof­fee shop, pub­lic trans­port, gro­cery store).
Now, in a month that would make 10 × 20 = 200 min­utes = 3h 20min. That's not bad.
Extra Credit: Go Fast
When we've accu­mu­lat­ed some record­ings and have lis­tened to them a sev­er­al times, we will know the con­tent pret­ty well. Now to go through it faster, if your device allows it; you can lis­ten to it at dif­fer­ent speeds such as, 1.3X, 1.5X and even, for the brave ones, 2X the speed. Mod­ern soft­ware tend to keep the pitch more or less intact so that you don't sound like a chipmunk.
---
Recap Of The The Steps:
Day 1: Pick an inter­est­ing text that you can under­stand. Famil­iar­ize your­self with it: Read a few words here and there.
Day 2: Set a timer. Read.
Day 3: Re-read the same passage(s). Record as much as you can in the remain­ing time.
Day 4: Read a new pas­sage or pos­si­bly fin­ish record­ing the pre­vi­ous one.
Repeat.
---
Give it a try. I always get a lot out of this method. Let me know how it goes. Start today by pick­ing a text.
If you liked it, please share it with your friends!