Has this ever hap­pened to you? You're hap­pi­ly read­ing a Latin text when you come across a word you're not sure about.
You open the dic­tio­nary, look up the word, learn the def­i­n­i­tion, go back to reading.
A lit­tle fur­ther down you stum­ble on anoth­er word. Same thing. Look up the word, learn the… and con­fu­sion sets in. The two words have basi­cal­ly the same definition.
"What's the dif­fer­ence?" "Is there a difference?"
After read­ing this arti­cle you'll know how to solve these age-old questions.
Introduction
Do Nuances of Meaning Matter in Latin?
Through the years, I have spent many a night pon­der­ing the dif­fer­ence in mean­ing between so-called syn­onyms, in order to bet­ter under­stand the nuances of the text. I have learned an immense amount from dic­tio­nar­ies of Latin syn­onyms through the years. This recent­ly became an indis­pens­able tool as we were writ­ing our new book Pugio Bru­ti: A Crime Sto­ry in Easy Latin: Since lim­it­ing the vocab­u­lary was para­mount, I had to find Latin words that would work in a wide vari­ety of con­texts, while still being clas­si­cal­ly attest­ed in that par­tic­u­lar con­text. But for learn­ers, and read­ers are such dic­tio­nar­ies necessary?
Frankly, while read­ing a text, you can often do with­out know­ing the pre­cise nuance a word car­ries; a gen­er­al notion will often suf­fice to pull you through to the author's next thought.
But if you desire to deep­en your knowl­edge of Latin, and peer through the seams of syn­onyms, or to drape your own thoughts with just the right words, you need to study the dif­fer­ences in meaning.
This can be a chal­lenge but for­tu­nate­ly there is help…
Where to Start?
Schol­ars have been writ­ing on Latin syn­onyms and their dif­fer­ences from antiq­ui­ty (e.g. Var­ro, and lat­er Isidore of Seville) to today.
In the 19th cen­tu­ry the genre flour­ished with a host of authors pen­ning dic­tio­nar­ies of Latin syn­onyms but, sine cura sis, I won't list them all.
Here I will rather focus on par­tic­u­lar­ly use­ful ones that I use in my own read­ing and research.
They date from the 18th to the 20th centuries.
I will present the most exhaus­tive ones first, more suit­able for advanced stud­ies, and then move on to more acces­si­ble works.
Luck­i­ly, all these dic­tio­nar­ies of Latin syn­onyms are avail­able as PDFs, to which I have added down­load links.
Comprehensive Latin synonym Works
Let's first look at the two prin­ci­pal works, one French and one German.
Gardin Dumesnil
First out is J.B. Gardin Dumes­nil's, Syn­onymes Latins et leurs sig­ni­fi­ca­tions, first pub­lished in 1777, but revised and trans­lat­ed sev­er­al times.
This is a com­pre­hen­sive work, con­tain­ing 7000 groups of syn­onyms. The descrip­tions giv­en are brief with exam­ples from Latin authors. There are few, if any, dis­cus­sions on the dis­tinc­tions made.
For that we need to turn to the next work on our list.
---
Down­load the PDFs here:
Döderlein
The most com­pre­hen­sive work on Latin syn­onyms by far is Lud­wig Döderlein's mon­u­men­tal Lateinis­che Syn­onyme und Ety­molo­gieen (1826–1838).
In six vol­umes he unveils the dif­fer­ences between words, giv­ing deeply detailed descrip­tions while pro­vid­ing his rea­son­ing and argu­ments for estab­lish­ing them.
Some­times there is a hint of absur­da dili­gen­tia which is always amusing.
Unfor­tu­nate­ly, it is only avail­able in Ger­man. (Be the first to learn Ger­man through a dic­tio­nary of Latin synonyms?)
Down­load the PDFs of Döder­lein's 6‑volume work here:
Shorter & Abridged Works: Quick fix?
Some­times your Ger­man fails you, or you just don't need all the 7000 words from Dumes­nil. If so, there are sev­er­al short­er works.
Ramshorn
Lud­wig Ramshorn, the Ger­man trans­la­tor of Dumesnil's work, also pub­lished an abridged ver­sion of the dic­tio­nary for schools.
The descrip­tions are short with­out any dis­cus­sions or argu­ments for his def­i­n­i­tions, mak­ing it more acces­si­ble and suit­able for a quick look.
Its Eng­lish trans­la­tion also con­tains a sec­tion on morphology.
Down­load the PDF here:
There is a dig­i­tal com­put­er ver­sion avail­able here:
---
Döderlein No. 2
Döder­lein – whose hand penned six vol­umes on Latin syn­onyms – seems to have realised that read­ers want­ed a more stream­lined work, some light read­ing, if you will, so he pub­lished an abridged version.
It keeps the var­i­ous dis­tinc­tions while dis­pens­ing with the rea­son­ing and argu­men­ta­tion behind them.
The abridged work has the added ben­e­fit of being avail­able in sev­er­al lan­guages (Eng­lish, French and German).
Down­load PDFs of the work here:
Down­load a com­put­er ver­sion here:
---
Douthat
In brevi­ty and clar­i­ty Robert Douthat's Latin syn­onymes defined from two stand­points takes the first prize.
To delin­eate the dif­fer­ences, he moves from the gener­ic to the spe­cif­ic: start­ing by defin­ing the sim­ple verb (e.g. "habere") he moves on to com­pounds (e.g. "exhibeo").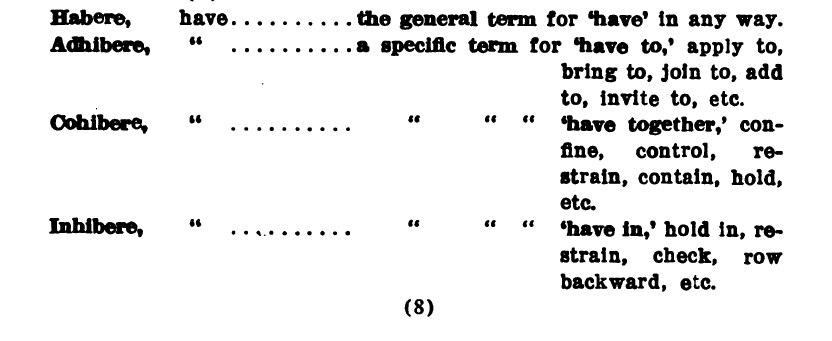 This dis­po­si­tion makes it dras­ti­cal­ly dif­fer­ent from the oth­er dic­tio­nar­ies but quite interesting.
Down­load the PDF here:
Latin Only Synonym Works
Thus far we've talked about ver­nac­u­lar dic­tio­nar­ies of Latin syn­onyms. Now it's time to move on to one whol­ly in Latin.
Popma
Auso­nius Popma's dic­tio­nary of Latin syn­onyms De dif­fer­en­ti­is ver­bo­rum (Turin 1852) gives detailed yet suc­cinct expla­na­tions of the dif­fer­ences in mean­ing, all in Latin.
In com­pre­hen­sive­ness it com­pares to Ramshorn's abridged ver­sion of Dumesnil.
Popma's strength is that it's writ­ten entire­ly in Latin, keep­ing you think­ing in Latin: While look­ing up a word you're build­ing your knowl­edge of syn­onyms as well as acquir­ing the vocab­u­lary nec­es­sary to dis­cuss dif­fer­ences of mean­ing in Latin.
A price­less skill.
Down­load the pdf here:
---
Latin Dictionary + Synonyms
Wagner
Wagner's Lex­i­con Lat­inum is some­thing in between a reg­u­lar Latin dic­tio­nary and a dic­tio­nary of Latin synonyms.
When you look up a word you get the ver­nac­u­lar def­i­n­i­tion (Ger­man, French, Ital­ian, Eng­lish – depend­ing on the edi­tion) as well as sev­er­al syn­onyms, but with­out expla­na­tions as to the dif­fer­ent shades of meaning.
With each def­i­n­i­tion you also get an exam­ple of its use.
This com­pact and use­ful work pro­vides an overview of the word and its syn­onyms with­out dis­cussing their differences.
Down­load the PDF:
Wagner's Lex­i­con Lat­inum is also avail­able as a search­able dig­i­tal resource here.
---
Synonym Works for Writing in Latin
Ogilvie
Last but not least is Prof. Robert Ogilvie's Horae Lati­nae; its aim and struc­ture is quite dif­fer­ent from oth­er works on Latin synonyms:
Writ­ten for com­pos­ing Latin prose, it gives the Latin equiv­a­lents of about 500 Eng­lish expressions.
It lists the Eng­lish words or expres­sions with descrip­tions of the var­i­ous ways in which they are to be ren­dered into Latin.
The def­i­n­i­tions are accom­pa­nied by many exam­ples tak­en from clas­si­cal works.
Use dig­i­tal ver­sion of this dic­tio­nary here.
---
Do you Believe in Synonyms? A warning
A note of warning.
Dumes­nil, Döder­lein, Pop­ma and the rest have some­times cut too fine lines between syn­onyms, dif­fer­en­ti­at­ing shades of mean­ing that clas­si­cal authors do not always observe (o audaciam!).
The dif­fer­ence between words doesn't nec­es­sar­i­ly lie in mean­ing but in reg­is­ter, style, genre, author or time period.
So look to these works for guid­ance rather than rev­e­la­tions of hid­den truths. Com­pare their def­i­n­i­tions with your own view. They do not sup­plant read­ing wide­ly and acquir­ing an intu­itive feel­ing for Latin.
Overview: Which Synonym Dictionary is Best?
We've looked at the major works and it's time to take the next step: using them.
Which one? you may ask. It depends on your sit­u­a­tion and need. They all have their strengths. If pressed, I would sug­gest using a cou­ple in conjunction.
Overview of Dictionaries of Latin Synonyms
Reg­u­lar dic­tio­nary with synonyms:
Wag­n­er, F., Lex­i­con Lat­inum seu uni­ver­sae phrase­olo­giae cor­pus con­ges­tum (Bruges, 1878).
English–Latin: great for writ­ing Latin:
Ogilvie, R., Horae Lati­nae (Lon­don, 1901).
Short­er dic­tio­nar­ies for quick answers:
Douthay, R., Latin syn­onymes defined from two stand­points (1907)
Döder­lein, L, Hand­book of Latin Syn­onymes, (Andover 1859)
Ramshorn, L., Dic­tio­nary of Latin Syn­onymes (Boston 1841)
All in Latin – For stay­ing in Latin:
Pop­ma, A., De dif­fer­en­ti­is ver­bo­rum (Turin 1852)
Wide selec­tion of words and brief explanations:
Dumes­nil, Syn­onymes latins et leurs dif­férentes sig­ni­fi­ca­tions (Paris 1853)
The most exhaus­tive with detailed discussions:
Lateinis­che Syn­onyme und Ety­molo­gieen (1826–1838).
Ready to Start Learning about word nuances?
Unrav­el­ing the the web of dif­fer­ences can be a hair-pulling, frus­trat­ing endeavour.
It's tempt­ing to write off two syn­ony­mous words as iden­ti­cal in mean­ing. Don't.
The next time you ask your­self "what's the dif­fer­ence between…?" I'm sure you'll go the extra mille pas­su­um and take out your Dumes­nil, Döder­lein or Popma.
You'll dis­cov­er the dif­fer­ences that ulti­mate­ly bring you clos­er to the text, to under­stand­ing it as the author (may have) intended.
Download All Dictionaries
If you want to down­load all the dic­tio­nar­ies in one go, I've put togeth­er a zip-file. Click below to get it.