Guest post writ­ten by Eleanor Dick­ey, Pro­fes­sor of Clas­sics at the Uni­ver­si­ty of Read­ing in England.
Two thou­sand years ago, when the Romans ruled a vast empire whose inhab­i­tants spoke all sorts of dif­fer­ent lan­guages, many of those inhab­i­tants want­ed to learn Latin. So they signed up for Latin class­es, where they learned using text­books con­tain­ing lit­tle dia­logues about every­day life. These dia­logues are in some ways remark­ably sim­i­lar to texts used today to teach mod­ern for­eign lan­guages, intro­duc­ing learn­ers to Roman cul­ture along with Latin: they illus­trate how to use the pub­lic baths, the banks, the mar­kets, the tem­ples, the law courts, etc. Here is one about vis­it­ing an ail­ing friend: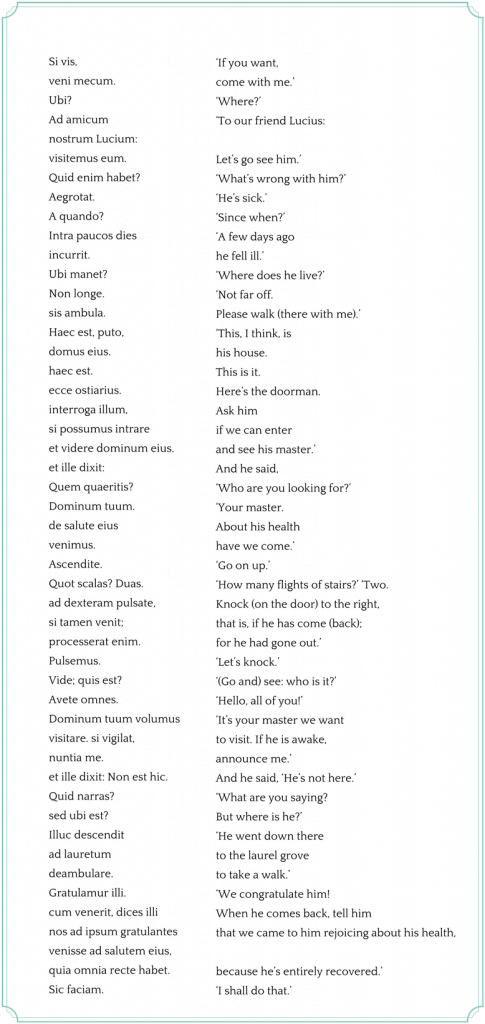 The two-col­umn for­mat of this text is orig­i­nal, though the trans­la­tion was orig­i­nal­ly into Ancient Greek rather than into Eng­lish. For unlike their mod­ern coun­ter­parts, the ancient learn­ers' dia­logues are all bilin­gual, with a run­ning trans­la­tion in the stu­dents' native lan­guage. The trans­la­tion match­es the orig­i­nal line for line, so that the learn­er can under­stand exact­ly how the orig­i­nal means what it means. This works bet­ter with Ancient Greek than it does with Eng­lish, because of the fixed word order of Eng­lish, but I've man­aged to keep the line-for-line for­mat in all but two lines of the pas­sage above.
The rea­son learn­ers need­ed bilin­gual texts was that in antiq­ui­ty writ­ers did not leave spaces between words; they also did not nor­mal­ly use punc­tu­a­tion or cap­i­tal­iza­tion. It is not too dif­fi­cult to read one's own lan­guage in that for­mat, but read­ing a for­eign lan­guage is real­ly tough, since if you don't know where the words begin and end, you can­not use a dic­tio­nary. And with­out a dic­tio­nary you have no hope at all with a mono­lin­gual text.
The extract below is writ­ten with both the Latin and the Eng­lish in the ancient for­mat: can you work out what it says? (Hint: the dia­logue is about some­one who claims anoth­er per­son owes him mon­ey; as in the pre­vi­ous pas­sage quot­ed, paren­the­ses indi­cate words in the Eng­lish that are not actu­al­ly present in the Latin.)
Among the dia­logues are many about going to school, such as this one:
These school dia­logues are par­tic­u­lar­ly valu­able for peo­ple today who would like to know exact­ly how ancient stu­dents learned lan­guages. In the extract above, for exam­ple, the boy's first exer­cise is read­ing aloud, a task that was extreme­ly chal­leng­ing with­out word divi­sion or punc­tu­a­tion. In the extract below, we see lan­guage learn­ers tack­ling an impres­sive amount of grammar: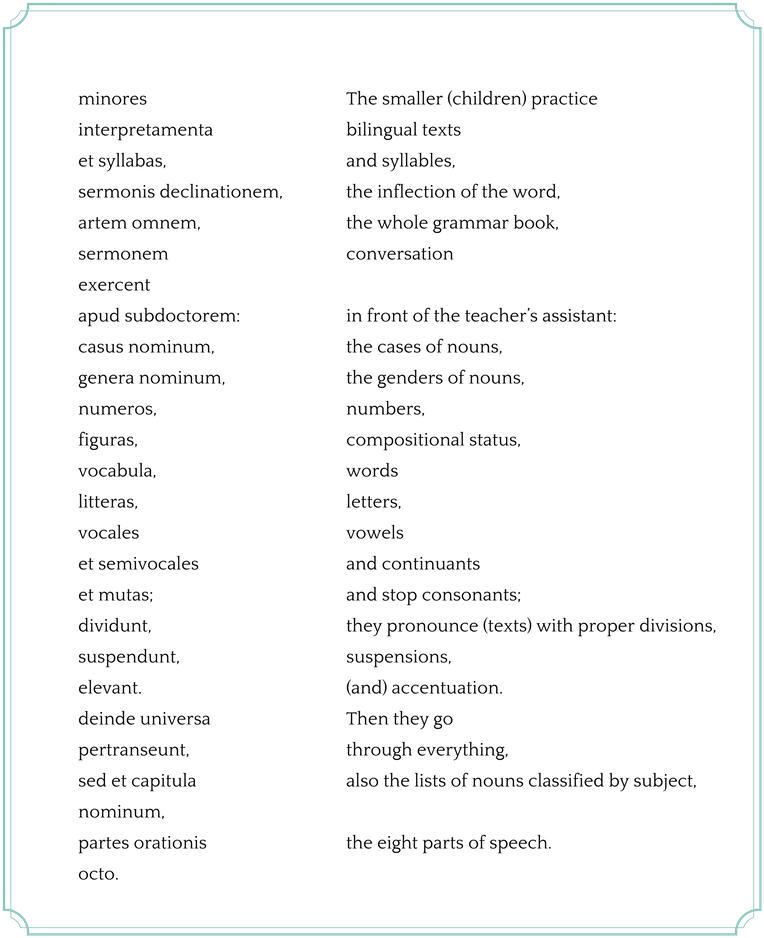 Ancient Latin learn­ers, in fact, did most of the things mod­ern Latin learn­ers do. In addi­tion to learn­ing gram­mar, they trans­lat­ed Latin texts into their own lan­guage, and texts into their own lan­guage into Latin. They read Virgil's Aeneid (though usu­al­ly they didn't get very far) and Cicero's Catili­nar­i­an Ora­tions. When they had gained enough vocab­u­lary to be able to cope with­out a run­ning Latin trans­la­tion, they read mono­lin­gual Latin texts, using dic­tio­nar­ies and com­men­taries to deci­pher them and writ­ing trans­la­tions of the hard words into their copies of the text. And, like many mod­ern learn­ers, some ancient learn­ers even­tu­al­ly became very good at the lan­guage and went on to read texts with­out need­ing to look up the hard words and write them down.
---
The book Learn­ing Latin the Ancient Way explains more about how ancient stu­dents learned Latin, Sto­ries of Dai­ly Life from the Roman World pro­vides trans­la­tions of all the ancient Latin-learn­ing dia­logues, and Read­ing ancient school­room offers a mod­ern recon­struc­tion of ancient Latin classes.