Guest post writ­ten by Ben­jamin Turn­er, M.D.
I am grate­ful to Justin Slocum Bai­ley for the breath of fresh air he lets into the mug­gy base­ment of Latin instruc­tion done The Usu­al Way. I wish I had come across his insights into indwelling lan­guage learn­ing a good twen­ty years ago. And yet in a way, I did. It recent­ly dawned on me that I've grown up from my ear­li­est mem­o­ries in an envi­ron­ment of liv­ing Latin: the Catholic Church.
Much has been writ­ten about the cru­cial impor­tance of the Latin lan­guage for the life of prayer in the Church. The Coun­cil of Trent anath­e­ma­tized the sug­ges­tion that the Mass ought to be said only in the ver­nac­u­lar. [1] Pope John XXIII called for the replace­ment of uni­ver­si­ty pro­fes­sors with­out Latin by those flu­ent in it.[2] Vat­i­can II insist­ed on the reten­tion of Latin[3], and every Pope since, includ­ing Fran­cis, has spo­ken in its favour [4], [5], [6], [7]. J.R.R. Tolkien famous­ly con­tin­ued, rather loud­ly, to use the Latin respons­es at Mass after his parish had adopt­ed the new Eng­lish options.
On the oth­er hand, I have yet to stum­ble across a dis­cus­sion of the reverse, name­ly the util­i­ty of Latin prayer for the learn­ing of the lan­guage. The rea­son for this is sim­ple: Any­one who prays takes prayer as an end in itself. With the excep­tion of the occa­sion­al prayer of peti­tion, prayer is meant to raise the mind and heart to God, and not to get some­thing else. Unless stat­ed very care­ful­ly, any expres­sion of the 'util­i­ty' of prayer strikes pious ears as some­thing approach­ing sac­ri­lege. For the same rea­son, no one who does not already pray is like­ly to start pray­ing only to enhance his Latin!
So why write this essay? Easy: a great good can be accom­pa­nied by less­er ones. Food, for exam­ple, is for stay­ing alive, but it can also pro­vide delight and friend­ship. While prayer is not FOR teach­ing you Latin, that's no rea­son it can't do so. I hope that what fol­lows will appeal to those who pray already, but need con­vinc­ing that Latin is worth the trou­ble, and also to those who do not pray at all, but who would find the con­cept inter­est­ing for lin­guis­tic rea­sons. I'll con­sid­er the essay a suc­cess if one such per­son pops into a church to expe­ri­ence Catholic prayer in its tra­di­tion­al form, ever ancient, ever new. I dare even hope some might dis­cov­er a far greater trea­sure than they were look­ing for.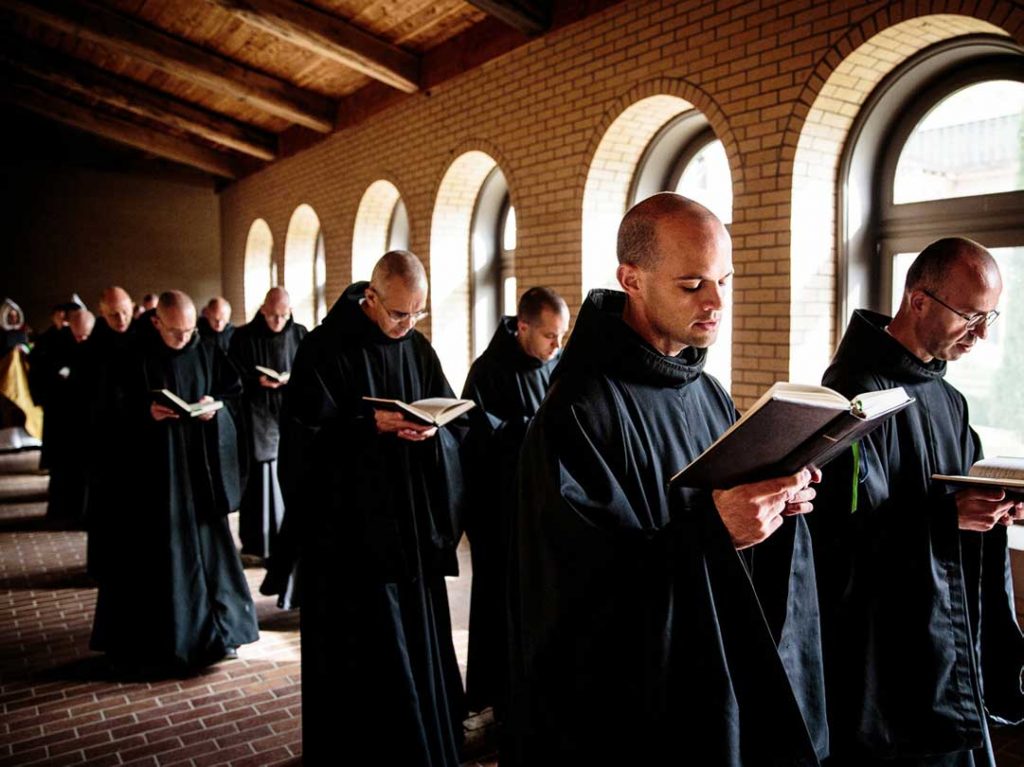 What is Latin Prayer?
The Latin habit of prayer is impos­si­ble to define pre­cise­ly, because the time allot­ted to prayer dif­fers so much between peo­ple. For many, Latin prayer will be lim­it­ed to the week­ly Mass. At the oppo­site extreme, tra­di­tion­al­ly-mind­ed monks such as those at Nor­cia in Italy, Le Bar­roux in France, or Clear Creek in Okla­homa, rise before dawn to spend half their wak­ing hours pray­ing in Latin. They sing rough­ly the whole 150 psalms in a week, besides dai­ly Mass­es, pri­vate prayer, and bless­ings of fields, meals, beer, trucks, and pret­ty well omnia quae moven­tur in ter­ra. For one exam­ple of some­thing in the mid­dle, my own habit (well, when I'm behav­ing myself) includes:
Week­ly Mass, with Gre­go­ri­an chant when­ev­er pos­si­ble. About an hour.
Dai­ly Prime (morn­ing prayer) and Ves­pers (evening). About fif­teen min­utes each.
Dai­ly read­ing of the Reg­u­la Sanc­ti Bene­dic­ti, about five minutes.
Grace at meals, a few minutes.
Read­ing of reli­gious books in Latin, time variable.
Discipline
How does such a habit help one to learn Latin? Per­haps the most impor­tant ben­e­fit is that of dis­ci­pline. All stu­dents are famil­iar with wax­ing and wan­ing inter­est in their cho­sen fields. But when study is only a side ben­e­fit of a greater good, one suf­fi­cient in itself to moti­vate repeat­ed and dili­gent atten­tion, flag­ging becomes less like­ly and less severe. Catholics are used to keep­ing up our prayers even when we don't feel like it. In fact, many authors sug­gest that dry peri­ods are pre­cise­ly when prayer is most fruit­ful. As a result, we're always immersed in at least some Latin, unin­ten­tion­al though it may be. I can think of any num­ber of inter­ests I've adopt­ed with vigour, only to find they've gone dor­mant or dead with­in a few months. Cal­lig­ra­phy, pho­tog­ra­phy, cook­ery, var­i­ous musi­cal instru­ments, the Irish lan­guage… But my inter­est and pro­fi­cien­cy in Latin only grows.
Illustration by Concrete Objects
Immer­sion derives much of its ben­e­fit from the use of the lan­guage on the con­crete objects and actions around the stu­dent; it has the stu­dents ask each oth­er for salt at the din­ner table. The litur­gy [8] is crammed with such con­crete objects and actions, often accom­pa­nied by match­ing prayers. While the con­gre­ga­tion is being sprin­kled with holy water, they sing: "Asperges me Domine hys­sopo, et mund­a­bor. Lavabis me, et super nivem deal­ba­bor." [9] As the priest begins the Mass at the low­est step of the altar, he intones the psalm "Introi­bo ad altare Dei." [10] While incens­ing the cross and altar, he says "Diri­gatur ad te, Domine, ora­tio mea sicut incen­sum in con­spec­tu tuo." [11]Grace before sup­per begins "Edent pau­peres, et sat­urabun­tur…" [12] All of this makes the earthy parts of Latin prayer very earthy indeed, and as firm­ly grasped as earth.
Cantare amantis est
A great deal of Latin prayer is sung. This is pri­mar­i­ly in order to make a more beau­ti­ful offer­ing to God and to move the soul to greater love, but it is also a pow­er­ful tool for mem­o­riza­tion. Thomas Aquinas was a pro­lif­ic the­olo­gian who dis­cussed every­thing from the heart beat to the proof of God's exis­tence by means of nat­ur­al rea­son. Few Catholics could quote any of that work from mem­o­ry, but many could recite a few stan­zas of his music for the feast of Cor­pus Christi, and most could hum the tunes. Some litur­gi­cal Latin music is easy, even down­right plea­sur­able to learn. Many authors took advan­tage of the new pop­u­lar­i­ty of rhyming text to repeat the same gram­mat­i­cal form for effect. For exam­ple: [13]
"Jesu, spes paen­i­ten­tibus,
quam pius es peten­tibus,
quam bonus te quaer­en­tibus,
sed quid invenientibus?"

— "Jesu Dul­cis Memo­ria," Attr. to St. Bernard of Clair­vaux, d. 1153
The Dies Irae from the Requiem Mass plays a sim­i­lar game through­out, with­out becom­ing pedan­tic. Maybe that explains why it's one of the catchi­est tunes in the his­to­ry of music, cov­ered by Mozart, Haydn, Ver­di, Berlioz and Liszt, and bor­rowed by movies from The Lion King to Star Wars. (This link is pro­vid­ed only for the enter­tain­ing his­tor­i­cal dis­cus­sion. The snip­pets of the Dies Irae itself are deplorably bad.)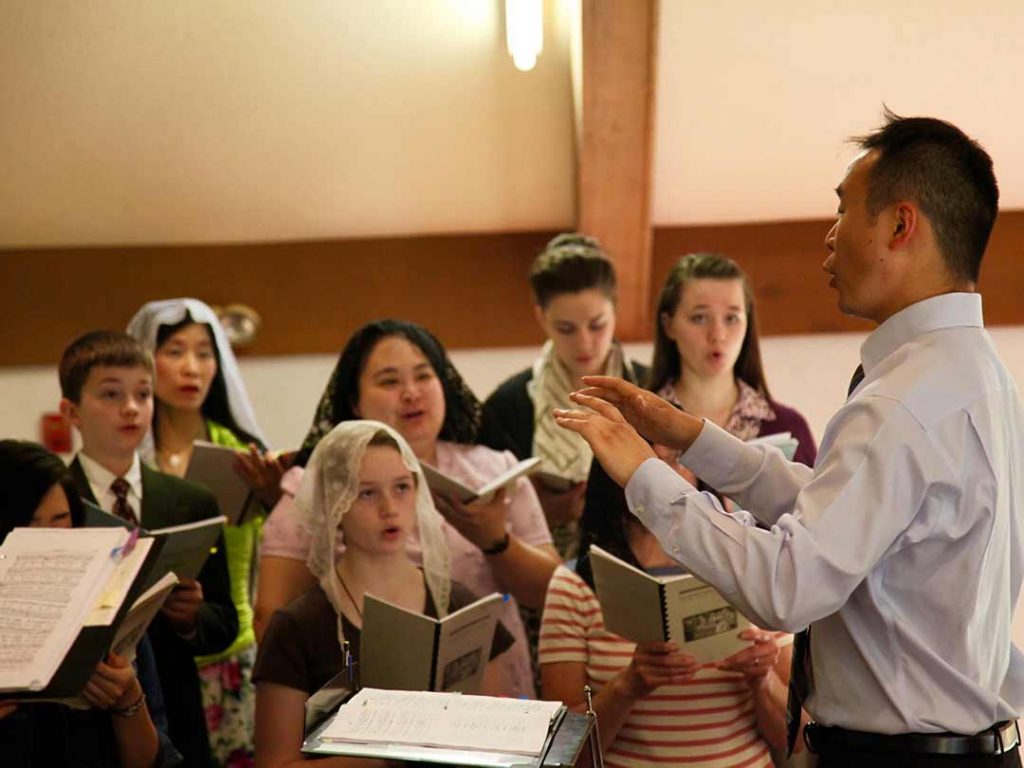 Repetition and Memorization
Even a basic pack­age of Latin prayer will see the most fun­da­men­tal prayers, a few pages worth, repeat­ed either dai­ly or week­ly. These are quick­ly mem­o­rized, invari­ably before a com­plete grasp of the gram­mar or vocab­u­lary. The ver­nac­u­lar sense, or a trans­la­tion, for exam­ple of the Lord's Prayer or grace at meals, is gen­er­al­ly known. One there­fore has some­thing like a liv­ing par­al­lel text in the imag­i­na­tion. Know­ing by heart what the Latin means, one learns slow­ly but sure­ly why it means it. After a while, the crib fades out and one is think­ing, at least for a few para­graphs, in Latin. These prayers become the cen­ter of one's inti­ma­cy with the litur­gy, the reas­sur­ance that for all its mys­tery, it is one's own.
Breadth of Style and Purpose
On the oth­er hand, many of the texts are repeat­ed only annu­al­ly, even less often for those par­tic­u­lar to spe­cial occa­sions. One might spend a life­time with­out see­ing the con­se­cra­tion of an altar stone, for exam­ple. There is there­fore plen­ty of fresh mate­r­i­al to keep things chal­leng­ing. And some of it is pret­ty chal­leng­ing! The Office Hymns, for exam­ple, can be as gram­mat­i­cal­ly acro­bat­ic as Horace, and pre­sume a broad vocab­u­lary, some of it post-clas­si­cal. The range of texts and styles in the Latin litur­gy can hard­ly be exag­ger­at­ed. The Canon[14] is rem­i­nis­cent of the high­ly styl­ized pagan prayers that pre­date Christianity.[15] The bib­li­cal read­ings are ear­ly Latin trans­la­tions of more than a millennium's worth of Greek and Hebrew scrip­tures. Read­ings from the church fathers are often in a late clas­si­cal style. The Reg­u­la Mona­cho­rum is some­where between clas­si­cal and vul­gate. The hymns of the Divine Office were com­posed in an evolv­ing style between the 300s and 1200s, before being severe­ly revised in 1632 under Urban VIII to make them more Augus­tan. The sub­ject mat­ter is as vari­able as the style, rang­ing from prayer in the strict sense to instruc­tions for receiv­ing guests in a monastery, with healthy dos­es of his­tor­i­cal nar­ra­tive, the­ol­o­gy, and of course expo­si­tion of the cen­tral dog­mas of the faith.
Speak up!
One can­not learn a lan­guage with­out atten­tion to its heard and spo­ken aspects. It is much more tempt­ing to dump these in favour of silent read­ing when the lan­guage one is learn­ing is not used in dai­ly con­ver­sa­tion. You can't turn on the Latin radio sta­tion on the way to work (apolo­gies to Nun­tii Lati­ni) or swing by the Lat­ian quar­ter for an espres­so and a box of mus­sels with garum. Latin prayer, on the oth­er hand, is usu­al­ly spo­ken aloud. You can't escape from your inept­ly rolled 'r', and it's hard­er to ignore vow­el quan­ti­ty. When you're not speak­ing your­self, you're lis­ten­ing to oth­er peo­ple speak­ing, and learn­ing from their supe­ri­or dic­tion. It's even edi­fy­ing to hear the occa­sion­al priest who clear­ly has no Latin at all, whose mis­takes can sil­hou­ette the right habits you weren't explic­it­ly aware of before.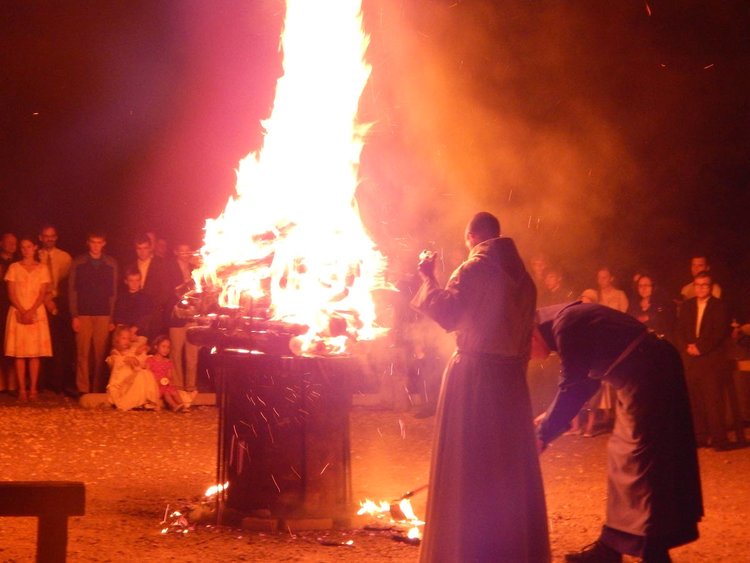 Check your work
Most pop­u­lar edi­tions of Latin prayer books come with a par­al­lel ver­nac­u­lar text. Mr. Bai­ley has explained the util­i­ty of a crib else­where, so I needn't dwell on it here. Still, I'll add one unex­pect­ed advan­tage of the Eng­lish cribs: They are gen­er­al­ly very loose, since they're intend­ed to read pleas­ant­ly in Eng­lish. That means they're most­ly use­ful for the occa­sion­al word one doesn't know, and the read­er is not tempt­ed to let the crib do all the translating.
Two drawbacks
There is one way the Latin habit of prayer falls short of true lin­guis­tic immer­sion: One nev­er impro­vis­es these prayers, but relies on those found in the tra­di­tion. So although you're speak­ing Latin, you're not forced to make the jump from con­cepts to sen­tences. A corol­lary: writ­ten Latin is not part of this reg­i­men at all. If you want to become tru­ly flu­ent in Latin, you will need to sup­ple­ment your prayer life with col­lo­qui­al immer­sion, such as that offered by Vivar­i­um Novumand SALVI. Recep­tive lan­guage, on the oth­er hand, read­ing and hear­ing, does not suf­fer from this draw­back, and can be learned very well in the liturgy.
If I've sparked any inter­est in these few para­graphs, I will also have caused a small prob­lem. The Latin litur­gy can be dev­il­ish­ly hard to find! When the ver­nac­u­lar Mass was per­mit­ted by Pope Paul VI, Latin went the way of many of the Church's oth­er price­less trea­sures, whether musi­cal, artis­tic or archi­tec­tur­al: Tech­ni­cal­ly still allowed, but sys­tem­at­i­cal­ly uproot­ed through­out most of the world. For a while, Catholics who pre­ferred the Latin forms were looked on with a degree of sus­pi­cion usu­al­ly reserved for schis­mat­ics. (We still enjoy feel­ing a bit coun­ter­cul­tur­al. I'm sure this is com­mon ground with non-Catholic Latin­ists!) In any case, recent years have seen a slow but steady return of Latin, and while cov­er­age is still thin, at least it's broad, as you can see from this map. And there's no geo­graph­i­cal imped­i­ment to pick­ing up a Bre­viary [16] and say­ing the psalms in Latin at home.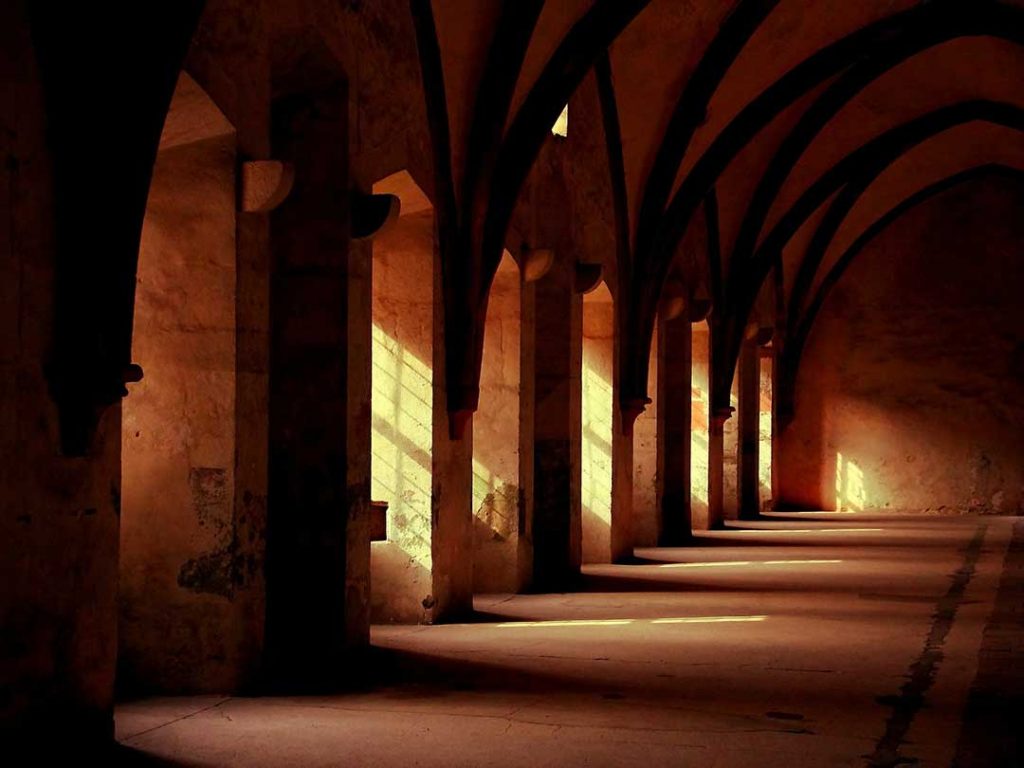 The Cadillac Latin Experience
But if you real­ly want to know Latin prayer, there's no alter­na­tive to vis­it­ing a tra­di­tion­al monastery. The flag ship is Font­gom­bault in France, with 100 monks, but there are sim­i­lar hous­es in Eng­land, Scot­land, Ire­land, Italy and Wyoming, to name only a few. Here you will see Latin liv­ing in the bloom of her youth, and for­get that any­one ever dared to call her dead. The monks saved and recast West­ern civ­i­liza­tion in Latin over cen­turies, and clear­ly intend to do the same for cen­turies to come. But be very care­ful: Clear Creek Abbey in Okla­homa was found­ed by Amer­i­can vis­i­tors to Font­gom­bault. They only want­ed to see West­ern civ­i­liza­tion at its roots. Instead, they chose to pray in Latin for the rest of their lives.
Valete.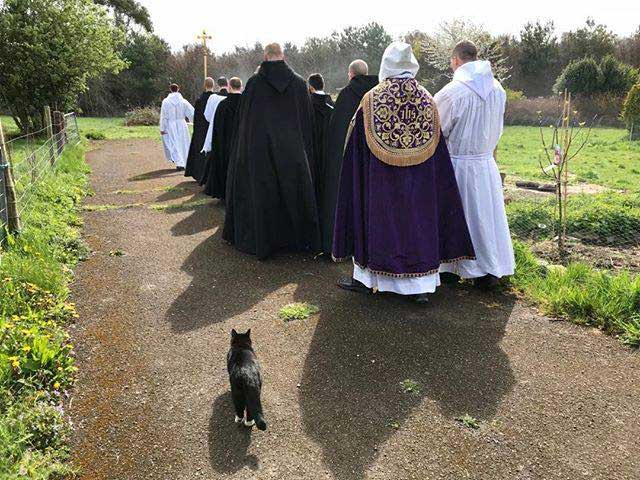 References
[1] Buck­ley TA. Canons and Decrees of the Coun­cil of Trent. Library of Alexan­dria; 2016 Nov 24. Avail­able here.
[2] XXIII J. Apos­tolic Con­sti­tu­tion Veterum sapi­en­tia (Feb­ru­ary 22, 1962). AAS. 1988 Dec 4;54:129–35.
[3] Sacro­sanc­tum Con­cil­i­um, para. 36
[4] Pope Paul VI, Sac­ri­fi­ci­um Laud­is, August 15, 1966
[5] Pope John Paul II, Domini­cae Cenae, Feb­ru­ary 24, 1980, sec. 10
[6] Pope Bene­dict XVI, Motu Pro­prio: "Sum­mo­rum Pontificum"
[7]Pope to Pon­tif­i­cal Acad­e­mies: Trans­mit Latin Cul­ture to Youth
[8] The pub­lic prayer of the Church, includ­ing orig­i­nal­ly pub­lic prayers when said privately.
[9] Thou shalt sprin­kle me, O Lord, with hys­sop and I shall be cleansed.
Thou shalt wash me, and I shall be whitened more than snow.
[10] I shall enter unto the altar of God.
[11] Let my prayer, O Lord, be direct­ed as incense in Thy sight: the lift­ing up of my hands as an evening sacrifice.
[12] The poor shall eat, and be filled.
[13] O Jesus, hope of the pen­i­tent, how gra­cious you are to those who ask, how good to those who seek you, but what to those who find you?
[14] The cen­tral prayer of the Mass, con­tain­ing the Con­se­cra­tion. It has remained essen­tial­ly unchanged from at least the 500s until the present day, though sev­er­al fab­ri­cat­ed new options were intro­duced after Vat­i­can II. In prac­tice, these are not used when the Mass is in Latin.
[15] Chris­tine Mohrmann, Litur­gi­cal notes
[16] The com­pact man­u­al of most of the dai­ly hours of prayer