Latin uses sev­er­al ways to express dimen­sions or mea­sure­ments. I often get stu­dents ask­ing about this, so today, we'll exam­ine how the accusative and gen­i­tive is used in Latin to express dimen­sions of things, answer­ing the ques­tions 'how long, wide, deep, thick?'
Dimen­sions in Latin are com­mon­ly expressed in three ways: (1) by the adjec­tives latus, altus, longus, and cras­sus with the accusative of extent of space, (2) the cor­re­spond­ing nouns lat­i­tu­do, alti­tu­do, lon­gi­tu­do, and cras­si­tu­do togeth­er with the gen­i­tive, or (3) sim­ply the gen­i­tive of measure.
All of this will become clear.
Let's begin by look­ing at how adjec­tives are used with the accusative of extent of space to indi­cate dimensions.
Accusative to express dimensions
Latin can use a hand­ful of adjec­tives to express mea­sure­ments: longus ('long'), latus ('wide'), cras­sus ('thick'), altus ('high, deep'). Note that altus express­es both depth and height, and the adjec­tive pro­fun­dus ('deep, vast') is not used to give mea­sure­ments of depth.
Sug­gest­ed read­ing: A Guide to Dis­tance in Latin: The Accusative of Extent of Space (and Ablative)
With these adjec­tives, the mea­sure­ments of length, height, width, or breadth are placed in the accusative case. Thus in Latin "The ditch is 2 ft wide" can be ren­dered as Fos­sa duos pedes lata est. The width of two feet is thus placed in the accusative: duos pedes.
So the adjec­tives define what type of mea­sure­ment it is (height, width, etc.), which are then qual­i­fied by the exact mea­sure­ment in the accusative case. Let's look at some exam­ples from Latin literature:
Latus, ‑a, ‑um ("wide")
Comesse panem tris pedes latum potes, fores pultare nescis. ("You can eat a loaf of bread three feet wide, but you don't know how to knock on a door." Plaut. Bacc. 580–1)
Archi­tec­tus […] adfir­mat pari­etes quamquam uig­in­ti et duos pedes latos imposi­ta onera sustinere non posse. ("An archi­tect […] has giv­en the opin­ion that the walls can­not sup­port the super­struc­ture in spite of being twen­ty-two feet thick." Pl. Ep. 10.39)
Altus ("deep, high, tall")
Raro umquam nix minus quat­tuor pedes alta iacuit ("The snow hard­ly ever lay less than four feet deep" Liv. 21.61.10)
For­nacem cal­cari­am pedes latam X fac­i­to, altam pedes xx ("Build the lime-kiln ten feet across, twen­ty feet from top to bot­tom." Cato, Agr. 38.1)
Longus ("long")
Taleae pedem lon­gae ("Logs a foot long" Caes. B.G 7.73.9)
Arabes glad­ios tenuis habentes lon­gos qua­ter­na cubi­ta. ("Arab archers hold­ing nar­row-blad­ed swords that were four cubits in length" Liv. 37.40.2)
Eos sur­cu­los fac­i­to sint lon­gi pedes binos ("Have those shoots be two feet long each" Cat. Agri. Cul. 41.4)
Crassus ("thick")
The adjec­tive cras­sus with the accusative is very rare, occur­ring most­ly in ear­ly Latin. Instead of cras­sus, we lat­er find the cor­re­spond­ing noun cras­si­tu­do ('thick­ness') with the gen­i­tive (see below).
Vinum ad isci­a­cos sic fac­i­to: de iunipiro materiem semi­pe­dem cras­sam con­cid­i­to minu­tim ("Cut into small chips a piece of juniper wood a half-foot thick" Cat. Agri Cul­tura 123.1.1.)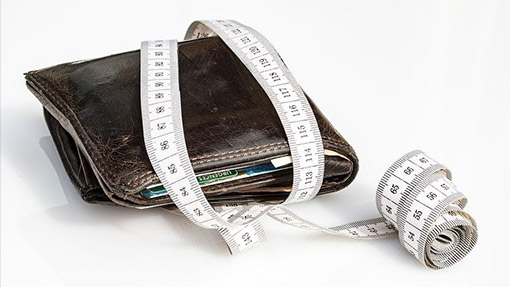 Accusative with verbs
The accusative is also used with verbs, e.g. patere ("to extend (over)") to express dimensions:
Pate­bat haec [tur­ris] quo­quover­sus pedes xxx ("This tow­er extend­ed thir­ty feet in all direc­tions" Caes. B.G. 2. 8.2)
medi­um spatium tor­ren­tis ali­bi aliter cauati paulo plusquam mille pas­sus pate­bat ("between the banks, a space of a lit­tle over a mile lay open where the tor­rent had hol­lowed it out in vary­ing degrees from place to place." Liv. XLIV.35)
The type of dimen­sion can also be pre­cised by a nouns such as lon­gi­tu­do ("length"):
ante oppidum plan­i­ties circiter mil­ia pas­su­um iii in lon­gi­tudinem pate­bat ("Before the town a plain extend­ed for a length of about three miles" Caes. B.G. VII.69)
We see that the mea­sure­ments are giv­en using the accusativus men­su­rae or accusative of extent of space regard­less of the type of mea­sure­ment (pes, pas­sus, or cubi­tum).
How­ev­er, this is not always the case…
Exception to the rule
Although these adjec­tives denot­ing dimen­sions seem to always take the accusative, they also occur with the genitive–though much more rarely:
Maiorem vero tur­rem altam cubito­rum cxx, latam cubito­rum xxi­ii ("The largest tow­er is to be 120 cubits high, 23 wide" Vitr. 10, 5)
Cohors ab omni cetero pecore sec­re­ta clau­di­tur alta novem pedum mac­e­ria ("A yard remote from any oth­er live­stock is enclosed by a wall nine feet high" Col. 8, 14)
In the first instance, tur­rim altam cubito­rum cxx, we see that altam is con­struct­ed with the gen­i­tive cubito­rum cxx instead of the more com­mon accusative cubi­ta cxx. Sim­i­lar­ly, in the sec­ond instance, we find alta with novem pedum, again in the gen­i­tive, instead of the accusative novem pedes.
Genitive
Genitive of Measure
Using the adjec­tives latus, cras­sus, altus, longus with the accusative of extent of space (or gen­i­tive) to express dimen­sions is not the only way in Latin. Per­haps the eas­i­est way Latin express­es mea­sure­ments with numer­als is through the Gen­i­tive of mea­sure. The numer­al (when dec­lin­able) and the unit of mea­sure­ment are placed in the genitive:
fos­sa tri­um pedum ("a trench of three feet [in depth]")
murus sedec­im pedum ("a wall of six­teen feet [high]")
Note that we have to infer from the con­text whether height, width, length, or depth is meant.
Nouns with the Genitive
The gen­i­tive is also used in con­junc­tion with the nouns alti­tu­do ('height'), cras­si­tu­do ('thick­ness'), lon­gi­tu­do ('length'), lat­i­tu­do ('width'). The mea­sure­ments are placed in the gen­i­tive instead of the accusative, and the nouns are either in the abla­tive or gov­erned by the prepo­si­tion in with the accusative:
dux­it fos­sam lat­i­tu­dine pedum C, alti­tu­dine XXX ("he car­ried a trench 100 ft. broad and 30 ft. deep" Plin. Hist. 6.165)
fos­sas pedum xxx in lat­i­tudinem com­plures facere insti­tu­it, ("Cae­sar began to dig sev­er­al trench­es thir­ty feet wide" Caes. B.C. 1.61)
clavis fer­reis dig­i­ti pol­li­cis cras­si­tu­dine ("with iron nails as thick as a thumb." Caes. B.G. 3.13.4)
To com­pare the noun with the adjec­tive con­struc­tion, let's rewrite the above exam­ples using adjec­tives and the accusative of extent of space:
Dux­it fos­sam latam pedes c, altam xxx, longam xxx.
Fos­sas pedes xxx latas facere insti­tu­it
Clavis fer­reis pol­licem crassis
As you see, the nouns are replaced by adjec­tives and the mea­sure­ments are placed in the accusative instead of the genitive.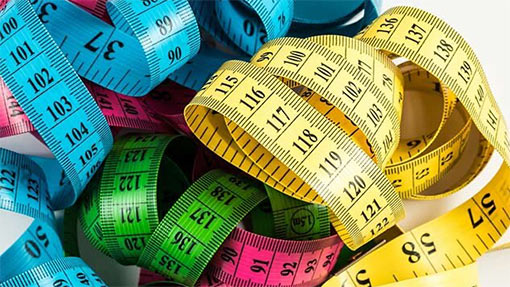 Summary and Review
Latin express­es dimen­sions using both the accusative of extent and the gen­i­tive of qual­i­ty (Gen­i­tive of Mea­sure). The accusative is com­mon­ly used with adjec­tives and verbs denot­ing dimen­sions, e.g. longus, latus, patere, while the gen­i­tive is used alone or togeth­er with nouns denot­ing dimen­sions, e.g. lon­gi­tu­do. Let's review with some sim­ple examples:
Fos­sa tres pedes alta est. The ditch is three feet deep.
Gla­d­ius tres pedes longus est. The sword is three feet long.
Nix duos pedes alta est. The snow is two feet deep.
Forum ducen­tos pedes in lat­i­tudinem patet. The forum is two hun­dred feet in width.
Gla­d­ius tri­um pedum est. The sword is three feet (long).
Murus vig­in­ti pedum est. The wall is twen­ty feet (high).
Liber unius dig­i­ti cras­si­tu­dine est. The book is one fin­ger thick.
Con­grat­u­la­tions! You are now an expert on dimen­sions in Latin!
What to do now?
Please, share this guide with friends and stu­dents, if you've found it useful.
When read­ing, try to remem­ber what you have learned today. Read­ing and know­ing about these con­struc­tions does not nec­es­sar­i­ly mean that you will instant­ly under­stand them while read­ing, writ­ing, or speak­ing Latin, but it is a start.
Terminology for additional reading
If you are inter­est­ed in read­ing even more about this in Latin gram­mars, it is use­ful to know the wide array of terms used by dif­fer­ent gram­mars in dif­fer­ent coun­tries: accusativus dura­tivus ('accusative of dura­tion'), accusativus spatii ('accusative of extent of space') accusativus dis­tan­ti­ae ('accusative of distance').