Nuntii Latini
When I start­ed teach­ing Latin using a spo­ken com­po­nent some sev­en years ago, hear­ing Latin was a rare thing, at least in my world. But for the last cou­ple of years at inter­na­tion­al con­fer­ences where I've giv­en talks and sum­mer cours­es I've taught at, I've seen the idea of using Latin active­ly blos­som and flourish.
From the wealth of spo­ken Latin cours­es to the increased out­put of Latin online, hear­ing Latin is no longer such a fringe phenomenon.
But before most oth­er things in the age­less realm of Latin, there was the Nun­tii Lati­ni – a news broad­cast all in Latin, pro­duced by the Finnish radio sta­tion YLE Radio 1.
---
Ten years ago I was tak­ing a course in post-clas­si­cal Latin; it was a good and demand­ing course, but I was the only student.
I was at the top of my class.
We had just been dis­cussing the Latin of Carl von Lin­né – more pre­cise­ly his use of indi­rect speech – when it was time for a short break; dur­ing which the teacher asked me if I'd heard of some­thing called Nun­tii Lati­ni.
I had not.
He went on to tell me that it was a Finnish news broad­cast in Latin. I was intrigued.
A minute lat­er, the speak­ers of a tired old lap­top played the first minute of an episode. As I heard the Latin, I remem­ber being fas­ci­nat­ed by hear­ing this lan­guage that I had thus far only stud­ied ana­lyt­i­cal­ly with focus on gram­mar and translation.
This was my first step into using Latin active­ly to learn to read bet­ter. Since then lis­ten­ing to Latin lit­er­a­ture, speak­ing and writ­ing Latin have all helped me to read bet­ter and I always urge my stu­dents to do the same.
Thirty years of Latin
The Nun­tii Lati­ni broad­cast has been sum­ma­riz­ing world news in Latin for close to thir­ty years. The pas­sion­ate souls that have kept Nun­tii Lati­ni going are Tuo­mo Pekka­nen, Vir­pi Sep­pälä-Pekka­nen and Rei­jo Pitkäranta.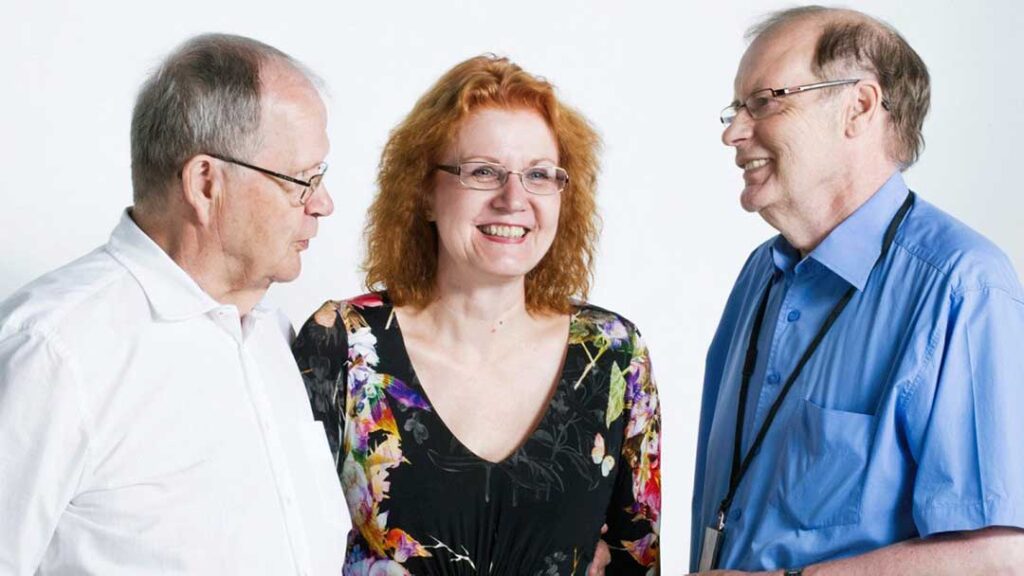 Nun­tii Lati­ni has attract­ed many stu­dents to Latin, show­ing that it is pos­si­ble to get a firm com­mand of the lan­guage so that you can under­stand it in real-time as it is spo­ken.
Some peo­ple may say a news­cast in Latin has noth­ing to do with Latin literature.
This is true.
But since it has helped bring atten­tion to Latin and inspire stu­dents and teach­ers alike to incor­po­rate lis­ten­ing com­pre­hen­sion into their study, then it has helped cre­ate more and bet­ter read­ers of Latin literature.
Count­less teach­ers have used the Nun­tii either to illus­trate aspects of the lan­guage or to pro­vide a change from the reg­u­lar coursework.
Nowa­days when peo­ple learn that I teach Latin, they often ask "Have you heard the Finnish news pro­gram in Latin?".
I now have.
Its exis­tence has become quite well known, even out­side the lands of Latin.
The twilight of Nuntii Latini
Unfor­tu­nate­ly, YLE, the radio sta­tion host­ing Nun­tii Lati­ni, has announced that on Decem­ber 21 they will be air­ing the last episode. The rea­son­ing seems to be that the audi­ence inter­est­ed in Latin is rel­a­tive­ly small, and that there today is more Latin audio avail­able online. (Read YLE's state­ment here.)
If you want to show your sup­port for Nun­tii Lati­ni, there is an online peti­tion here:
You can still lis­ten to old episodes dat­ing back to 2011 here.
What­ev­er the fate of the broad­cast will be, it has been instru­men­tal in giv­ing Latin more atten­tion and remind­ing us that Latin is a lan­guage, that you can learn to use active­ly and under­stand it when spoken.
Though the cur­tain falls on Nun­tii Lati­ni, it start­ed the era of Latin audio online that flour­ish­es today and helps stu­dents devel­op their abil­i­ty to read Latin literature.
Gra­tias ago max­i­mas vobis qui nun­tios Lati­nos tot annos tan­ta seduli­tate edi­tis. Non est dubi­um, ita me di ament, quin pluri­mi mag­istri et dis­cip­uli totius orbis ter­rarum opera ves­tra in lin­guae Lati­nae studi­is opin­ione alacrius pro­gres­sus fecerint. Pluri­mi ves­tigi­is vestris insis­tant! Bene valete.