French Fairytales in Latin
In 1697 the French author Charles Per­rault pub­lished his book of fairy­tales, His­toires ou con­tes du temps passé, or, Sto­ries or Tales from Past Times. Many of the sto­ries he told in this book are still well-known today not just in France, but all over the world. The sto­ries are told by par­ents to their chil­dren, read for amuse­ment, re-writ­ten for the cin­e­ma or adapt­ed for the stage.
Among Perrault's sto­ries are Cin­derel­la, Puss in Boots, Sleep­ing Beau­ty and Lit­tle Red Rid­ing Hood. (Yes, Dis­ney has drawn a lot of inspi­ra­tion from Perrault.)
The only thing wrong with Charles Perrault's sto­ries is that they were writ­ten in French. So, to right this wrong, we can now present a new ver­sion of Perrault's His­toires: Fab­u­lae Gal­li­cae – in Latin of course!
Paperback
Dive into the mag­i­cal world of fairy­tales in Latin. Illus­tra­tions, ample notes and a trilin­gual glos­sary will make the read­ing more fun.
E‑Book
Read the Fab­u­lae Gal­li­cae on your tablet or com­put­er. The con­tents of the e‑book is the same as the paper­back. Pre­view the book here.
Classic fairytales in a classical language
Read and enjoy Latin: Dive into Charles Per­rault's world of fairytales.
Improve your Latin: 90 pages in a clas­si­cal Latin style for exten­sive reading.
Glos­sary in three lan­guages: French, Eng­lish, Spanish.
A magical world of fairytales
Learn­ing Latin and know­ing Latin is hard work. Find­ing good lit­er­a­ture writ­ten in good clas­si­cal Latin to read at an appro­pri­ate lev­el is at times difficult.
With Fab­u­lae Gal­li­cae the list of good lit­er­a­ture in Latin has grown a lit­tle longer. Not only are we treat­ed to one of sto­ry­telling history's most famous works, but it has also been dili­gent­ly trans­lat­ed into Latin.
The trans­la­tor, Lau­rent d'Aumale, has with the sup­port of Latinitium's Daniel Pet­ters­son, trans­lat­ed Charles Perrault's 17th cen­tu­ry book of fairy­tales into a clas­si­ciz­ing Latin. The trans­la­tion can be read both as a learn­ing tool and as engag­ing lit­er­a­ture for the flu­ent Latinist.
Cinerel­la

– Cinderella

Mag­ae

– Dia­monds and Toads

Bar­ba Caerulea

– Bluebeard

Cucul­lus Ruber

– Lit­tle Red Rid­ing Hood

Pol­li­cel­lus

– Lit­tle Thumbling

Cat­tus Catus

– Puss in Boots

Asi­ni Pel­lis

– Donkeyskin

Bel­la Puel­la in Sil­va Sopi­ta

– Sleep­ing Beauty
Every coun­try has its favourite Per­rault tales. Some are even bet­ter known to Eng­lish speak­ers than to French speak­ers, such as Dia­monds and Toads. Oth­ers, like Blue­beard and Don­keyskin, are much-loved by French chil­dren, yet may have been judged too vio­lent and cru­el to receive wide accep­tance abroad.
When read­ing Fab­u­lae Gal­li­cae, you will find your­selves in a mag­i­cal world that may strike you as both famil­iar and strange. When read­ing for instance Bel­la Puel­la in Sil­va Sopi­ta (i.e. Sleep­ing Beau­ty) you might rec­og­nize the first half, since it's sim­i­lar to the Dis­ney adap­ta­tion, while the oth­er half might sur­prise and – per­haps – hor­ri­fy you. Con­verse­ly, in Cucul­lus Ruber (Lit­tle Red Rid­ing Hood), you might be shocked to dis­cov­er how Per­rault's tale ends or, rather, how it does not end.
Perrault's tales are charm­ing and amus­ing, intrigu­ing and some­times provoca­tive. With Per­rault, social satire and deri­sion are nev­er far away, and he uses mul­ti­ple inter­pre­ta­tive lay­ers which make for both pleas­ant read­ing and ani­mat­ed discussions.
Fabulae Gallicae
Preview chapters
If you want to get an idea of the lev­el and style of the Latin, or if you're just curi­ous about fairy­tales in Latin, click below to dive right in to Fab­u­lae Gallicae.
Care­ful­ly and dili­gent­ly craft­ed Latin.
Macrons on long vowels.
Eng­lish, French, Span­ish glossary.
Notes all in Latin.
Eight famous, excit­ing, and mov­ing fairytales.
Over 90 pages for exten­sive read­ing in Latin.
Illustrated fairytales for learning and enjoying Latin
Fab­u­lae Gal­li­cae is a treat for every­one know­ing Latin, learn­ing Latin or wish­ing to learn Latin:
It is a great enjoy­ment for those wish­ing to indulge in good sto­ry­telling in good clas­si­cal Latin.
It is a great com­pan­ion for those who wish to improve their Latin. It is not writ­ten in easy Latin, or even inter­me­di­ate Latin, your lev­el of Latin must be fair­ly high to be able to under­stand. How­ev­er, because many of the sto­ries are well-known from cin­e­ma and cul­ture, under­stand­ing gets a lit­tle help on the way.
The won­der­ful illus­tra­tions by Olga Bérard high­light the sto­ry and facil­i­tates comprehension—and make read­ing more enjoy­able as they are beau­ti­ful to look at!
Fab­u­lae Gal­li­cae also con­tains a vocab­u­lary. But – and it is a big but – it is not only a Latin-Eng­lish vocab­u­lary as you might expect. It con­tains three lan­guages: French, Eng­lish and Spanish.
Perrault's fairy­tales vary in length, rang­ing from three (Cucul­lus Ruber) to about twen­ty pages (Asi­ni Pel­lis). The read­er will thus have the option of start­ing with the short­est tales, if they wish. Each of the tales, of course, is a self-con­tained whole, so that they do not have to be read in any par­tic­u­lar order.
For those who do not yet know Latin but wish to learn, this is a great book to put on your list of "wish-to-reads".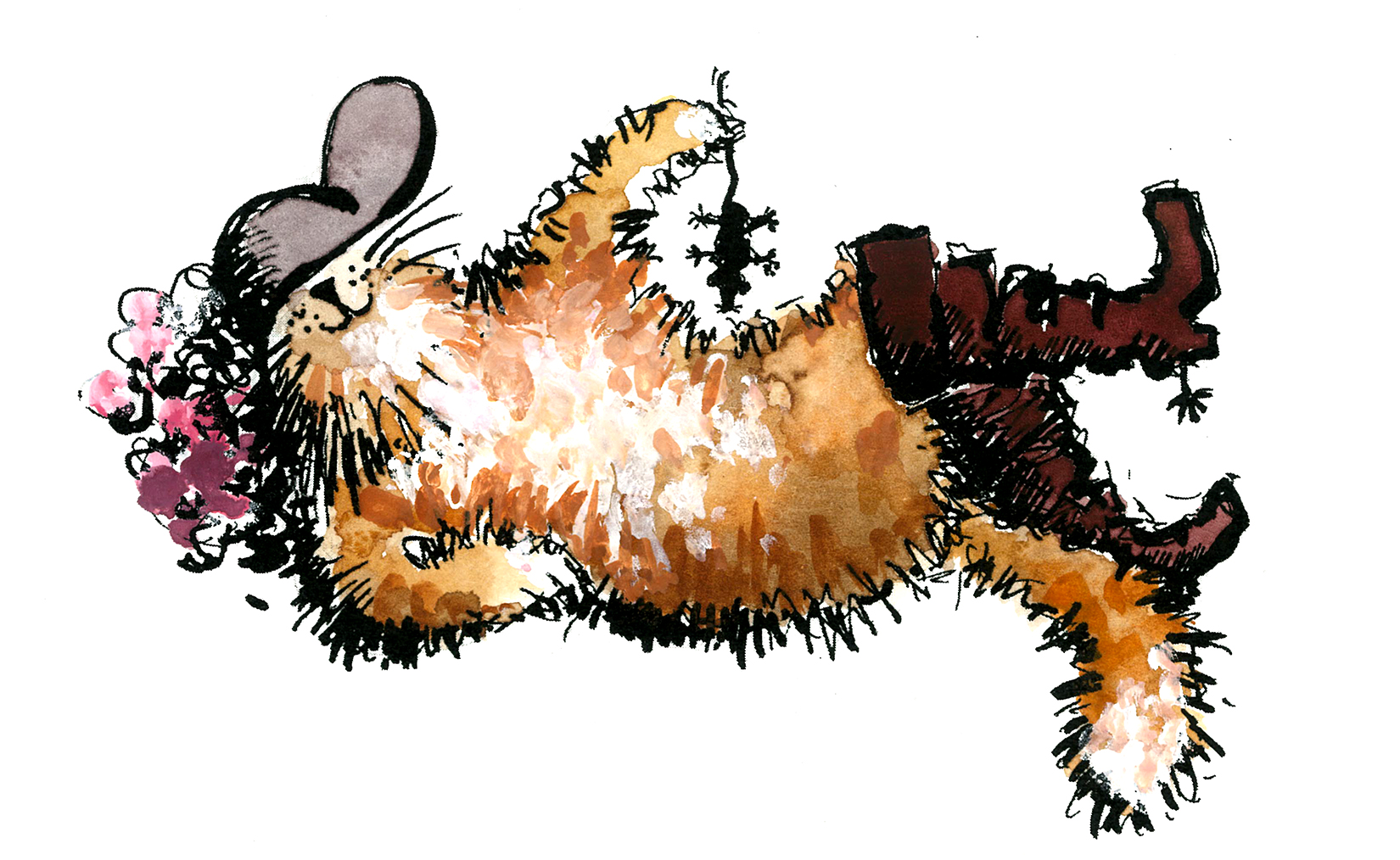 "Ubi ad cel­læ jānu­am per­vēnit, paulisper stetit, cum recordārē­tur marī­tum id sibi inter­dīxisse, timēretque nē propter tan­tam audā­ci­am quandōque in perīcu­lum incideret. Sed studi­um videndī majus erat quam ut superārē­tur : itaque parvā clāvī prōmp­tā cel­læ jānu­am tremēns reserāvit et reclūsit.
Cum vērō fen­estræ clausæ essent, prīmō nihil vīdit, sed mox ani­mad­ver­tit tōtum pavī­men­tum san­guine coāgulātō operīrī…"
— Fab­ulæ Gal­licæ, pp. 23–24
Frequently Asked Questions
How do I get the book?
The paper­back ver­sion of Fab­u­lae Gal­li­cae is avail­able in our store.
Is there an e‑book version of Fabulae Gallicae?
Yes, the E‑book is avail­able on Google Play, you can find it here. The con­tents are the same as in the paperback.
Is there an audiobook version of Fabulae Gallicae?
Is Fabulae Gallicae suitable for autodidacts wanting to improve their Latin?
Yes! It's a per­fect book for exten­sive read­ing: beyond the inter­est of the sto­ries, the great vari­ety in expres­sion and syn­tax makes for an inter­est­ing read­ing for advanced stu­dents of Latin who want to read some­thing lighter than De Bel­lo Gal­li­co and Pro Cae­lio.
The struc­ture of the book also makes for good chunks around which to plan your studies.
How much Latin do I have to know to read Fabulae Gallicae?
That's a tricky ques­tion. Fab­u­lae Gal­li­cae is not writ­ten for begin­ners, as it fea­tures the whole range of syn­tac­tic com­plex­i­ty of Latin with a rich vocab­u­lary. How­ev­er, the trilin­gual glos­sary will be of great aid to read­ers, as will the illustrations.
You can have a look at the pre­view chap­ter above to gauge the level.
Can I use Fabulae Gallicae as a textbook?
This is not its pri­ma­ry pur­pose, but the sto­ries can be used to build a com­pelling cur­ricu­lum around them.
What are the fairytales called in English?
Cinerel­la – Cin­derel­la; Mag­ae – Dia­monds and Toads; Bar­ba Caerulea – Blue­beard; Cucul­lus Ruber – Lit­tle Red Rid­ing Hood; Pol­li­cel­lus – Lit­tle Thum­bling; Cat­tus Catus – Puss in Boots; Asi­ni Pel­lis – Don­keyskin; Bel­la Puel­la in Sil­va Sopi­ta – Sleep­ing Beauty