Latini­tium is oper­at­ed by Daniel Pet­ters­son, M.A., and Amelie Rosen­gren, M.A.
Daniel is a Latin teacher, speak­er, author. He is cur­rent­ly research­ing the ped­a­gogy of 16th cen­tu­ry Latin school dialogues.
Amelie Rosen­gren is a his­to­ri­an and author who's main inter­est is every­day life through­out his­to­ry from antiq­ui­ty to the 19th century.
Our pur­pose is to pro­vide a wide selec­tion of eclec­tic resources for every­one learn­ing and/or teach­ing Latin. Our focus lies pri­mar­i­ly on help­ing peo­ple teach them­selves Latin by way of read­ing, lis­ten­ing, speak­ing and writing.
We aim to cre­ate a home for all things Latin, con­tain­ing every­thing you need on your jour­ney through the Latin language.

Learn how to plan your stud­ies, find the best books, and mas­ter Latin efficiently.

Latin videos & Articles
Learn new expres­sions, and dis­cov­er inter­est­ing literature—all in Latin.

Community & Weekly Latin videos
Get exclu­sive videos and con­nect with Daniel Pet­ters­son and oth­er peo­ple in our community.
- 200+ videos in Latin.

Legentibus: Latin ebooks & audiobooks
A library of Latin texts with syn­chro­nized audio on your smart­phone or tablet.
- begin­ner to advanced
- for learn­ers and teach­ers
- sto­ries, text­books, and literature
Latin is a lan­guage, not a puz­zle to solve. We teach Latin as a lan­guage, which means using it, speak­ing, writ­ing, read­ing, listening.
What we believe
Latin is a Language
Since most of us learn Latin to be able to enjoy and study its rich lit­er­a­ture, we believe that we should strive to be able to pick up almost any author and read with ease, much like some­one would read Span­ish, French or any oth­er lan­guage they may have mas­tered. This means acquir­ing an intu­itive feel not only for mor­phol­o­gy and syn­tax but for vocab­u­lary and idiom.
To learn a lan­guage, in this case Latin, and to have a good com­mand of it, we believe in holis­ti­cal­ly build­ing skill in four areas of lan­guage ability:
Read­ing
Lis­ten­ing
Writ­ing
Speak­ing
Latin is a lan­guage in every sense of the word. It can be read, writ­ten, heard and spo­ken. The fact that the Romans are no longer with us does not change this. Latin con­tin­ued to be writ­ten and spo­ken even after their demise, through the Mid­dle Ages and the Renais­sance, and this tra­di­tion con­tin­ues even today. We firm­ly believe that Latin should be treat­ed as a real lan­guage and learned as one.
When learn­ing Latin, read­ing is the end goal, and the oth­er fac­ul­ties men­tioned above are means to acquir­ing and strength­en­ing our abil­i­ty to read. Here at Latini­tium we believe the goal to be read­ing and under­stand­ing at the same time; read­ing com­fort­ably with­out trans­lat­ing every word and con­sult­ing dic­tio­nar­ies and gram­mars all the time.
"Lin­gua nul­la disc­i­tur e gram­mat­i­ca sed ex auc­toribus idoneis."

— Johannes Amos Comenius"
To get there we have to read texts suit­able to our cur­rent lev­el of knowl­edge and under­stand­ing of the lan­guage, or Com­pre­hen­si­ble Input, as the schol­ars call it, and then work our way up to grad­u­al­ly more dif­fi­cult texts. This is vast­ly dif­fer­ent from the all too com­mon prac­tice of read­ing advanced texts such as Cicero and Cae­sar at the begin­ning and inter­me­di­ate stages. (Who would read Vic­tor Hugo the first year of French?)
We have to read a lot of texts at our cur­rent lev­el, as much as pos­si­ble, and slow­ly but sure­ly we will get to that intu­itive mas­tery of the gram­mar and idiom of Latin which comes nat­u­ral­ly when we immerse our­selves in lan­guage that we understand.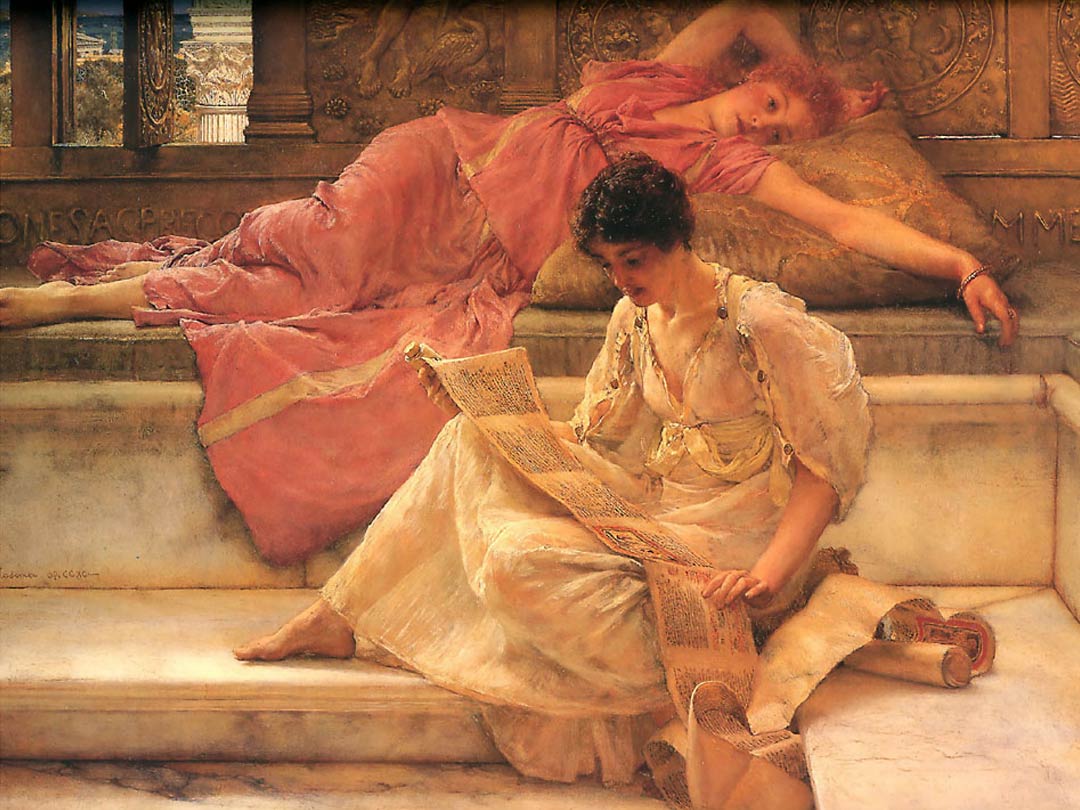 What we believe
Listening
Read­ing, how­ev­er, is not the only way to expose our­selves to the tar­get lan­guage, lis­ten­ing plays an intri­cate and impor­tant role in the acqui­si­tion of lan­guage and we would do well by incor­po­rat­ing a large amount of it in our studies.
When we lis­ten to lan­guage, as opposed to read­ing it, we need to under­stand every­thing at once with the flow of the lan­guage, we can­not stop and won­der about the mean­ing of each word, or dou­ble check the case end­ing, we have to get the syn­tax and the mean­ing all at once.
Lis­ten­ing is not only a great way to get Latin input and rep­e­ti­tion, but it is a fair­ly pas­sive activ­i­ty you can do while in the car, on the bus, in the super­mar­ket, or any­where really.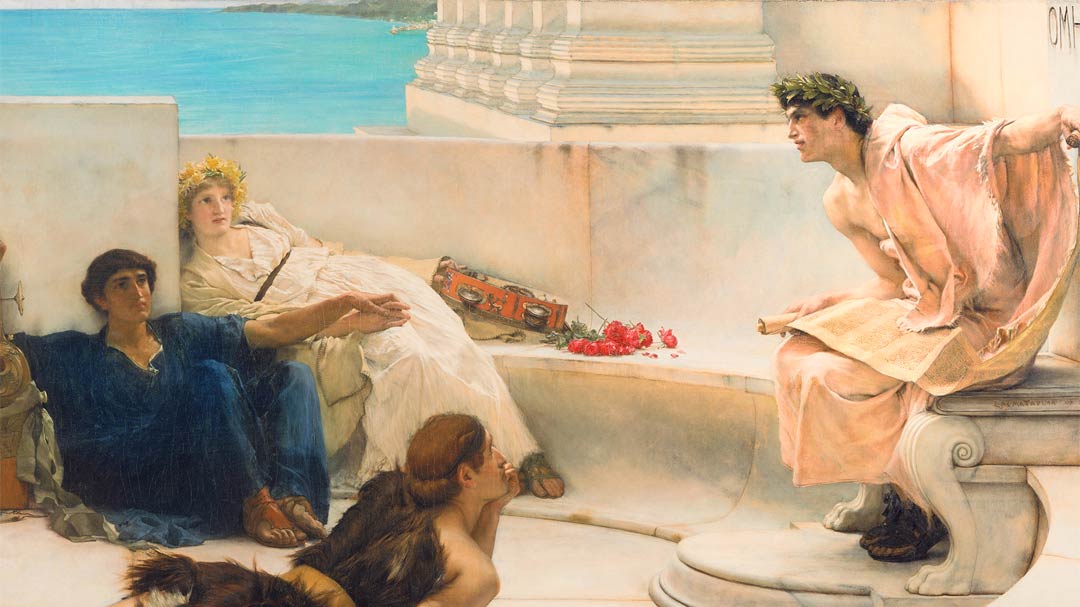 What we believe
Writing & Speaking Latin
While lis­ten­ing and read­ing are more pas­sive in nature, writ­ing and speak­ing require more effort and time, but they are also the cre­ative part of lan­guage. We get to expe­ri­ence the oth­er side, so to speak, by putting our­selves in the shoes, – or san­dals – of the count­less men and women who have sat down to pen their thoughts in Latin.
Writ­ing lets us get cre­ative and try out the lan­guage and make it our own, but with­out the stress of the here-and-now that is speak­ing it. We get to prac­tice any aspect of the lan­guage and also to see our own progress over time; we can even com­pete with the great authors by writ­ing on sim­i­lar subjects.
Speak­ing is very much like writ­ing, but of course in a less elab­o­rate and, often­times, more spon­ta­neous and less pol­ished man­ner. Speak­ing par­al­lels lis­ten­ing in that we have very lit­tle time to think about the lan­guage itself, which makes it a more dif­fi­cult activ­i­ty but one that not only boosts self-con­fi­dence but also acti­vates and rein­forces the knowl­edge gained from reading.
We strong­ly believe that Latin is to be treat­ed as a real lan­guage, and that Latin is for every­one. Every­one can learn, or rather, teach them­selves Latin.
You can learn Latin
Latin for all
It might not be so easy a lan­guage to mas­ter, but as long as we set our goals and keep read­ing, lis­ten­ing, writ­ing and speak­ing it is there for everyone.
Latin not only builds a bridge between peo­ple, like mod­ern lan­guages, but it also builds bridges over time and allows us to be part of that unbro­ken chain of peo­ple who have spo­ken and writ­ten Latin through­out his­to­ry, from Antiq­ui­ty up to today.